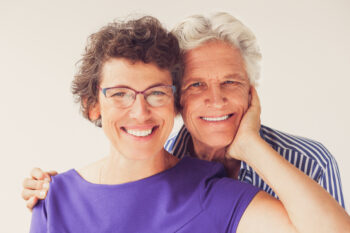 How much help can you really expect to receive from a dental prosthetic? Can your artificial tooth, or a larger prosthetic appliance, do more than improve your smile? At our Londonderry, NH dentist's office, we are experienced with the kind of care involved in restoring an incomplete smile. Thanks to implant dentistry, it is possible to permanently secure restorations that are stable enough to support your bite, keep neighboring teeth in place, and even help you maintain your overall oral health. While a single implant can be relied on to hold a single restoration, we do have options when it comes to holding larger appliances—in fact, it is possible for you to receive a full denture held in place with implants!
Fully Addressing The Effects Of Tooth Loss
Tooth loss is not just a cosmetic problem, but it is certainly an issue that can lower your confidence in your smile. When it occurs, it can leave you less capable of biting and chewing comfortably. It also robs neighboring teeth of support that they depend on, which can effectively make them more vulnerable to being lost themselves. Another concern is that as time passes, you can lose density in your jawbone due to the lack of stimulation from lost roots. By choosing implant dentistry, you choose an approach to prosthetic work that will help you regain better dental health as well as smile improvements!
Discussing The Placement And Restoration Of A Dental Implant
Whether you need a crown to resolve problems with the loss of one tooth or a full denture, dental implants can benefit you. The number of implants that you need for treatment will depend on the restoration that you receive. Before placement occurs, we will evaluate you to see how many you need, where they should be positioned, and what angles they should be held at. Once this work is done, you will take time to heal; after you return, we can set your permanent prosthetic in place!
Maintaining Your Smile After It Is Fully Restored
Completing restorative dental work of any kind can give you renewed confidence in your health and appearance. To maintain that confidence, you should keep up with good oral hygiene habits and care that ensures you are not at risk for future problems. During dental exams and cleanings, we can carefully examine your restorations as well as natural teeth to see if there are any problems we need to resolve.
Talk To Your Londonderry, NH Dentist About Implant Dentistry
Thanks to implant dentistry, patients who have gone through different degrees of tooth loss can regain confidence in their appearance and oral health. If you want to know more about this or any other service, please reach out to our Londonderry, NH dental office at 603-965-3407.