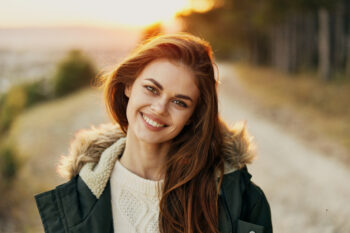 Your teeth may be healthy, but as long as you have noticeable problems with discoloration, they can appear to be in poor condition. Stains that we pick up over time can make enamel look less healthy, and they can also make someone appear older than they really are. Fighting discoloration on your own can be difficult. Fortunately, your Londonderry, NH dentist's office can provide an effective solution to this issue. With a professional teeth whitening treatment, you can see stunning improvements to your appearance! You can make plans to take home a special whitening kit that we create for you, or you can schedule a visit to our office to have your smile treated.
Are You Growing Dissatisfied By The Color Of Your Smile?
As time passes, it can become increasingly difficult to ignore the negative impact of teeth stains on the way you look. There are a wide variety of foods and drinks that can lead to troubling discoloration. Even after you adjust your diet to lower your exposure to stains, you can feel stuck with the particles that are already built up on your teeth. While they can prove resilient against take-home whitening agents, your dentist can provide treatment options that deliver remarkable overall changes!
Planning Your Personalized Teeth Whitening Treatment
When you plan your personalized teeth whitening treatment, you can decide if you want to take care of enamel stains at home, or if you prefer to come to our office to undergo care. An in-office solution can be ready in as little as one appointment. Through the use of a special bleaching agent available from a dental professional, stains can be broken up in just over an hour. Those who want to deal with discoloration on their own can instead choose to take home a kit that has been prepared just for them. With that kit, they can perform daily treatments for a recommended period of time to see the results that they want!
What Can I Do About Internal Discoloration?
Unfortunately, there are times when even a professional whitening treatment can have limited benefits, as some problems with discoloration come from internal problems with tooth structure. In these cases, we can discuss another solution. With porcelain veneers, we can hide these blemishes. We can also use these special restorations to hide concerning flaws with the shapes and sizes of teeth that look out of place.
Talk To Your Londonderry, NH Dentist About Making Your Smile Whiter
Through treatment to make your smile whiter, we can restore your confidence in your appearance! Our practice offers different approaches to care, with the goal of providing an attractive and effective solution to your cosmetic concerns. To discuss this or any other service, contact our Londonderry, NH dental office at 603-965-3407.