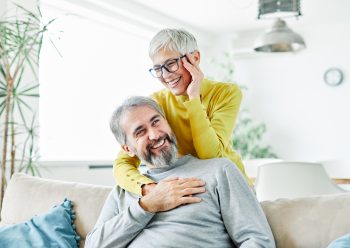 Receiving a custom denture means regaining a complete smile. This can make you look younger and healthier, which can give you an important raise in confidence. With that said, you may be unsure about what else your restoration can do for you? What will treatment do for your ability to bite and chew? Will your denture feel comfortable, or will it be difficult to keep in place? For someone who is looking for their first denture, or for someone who has been self-conscious about a removable denture that feels loose, dental implants can help. Our Londonderry, NH dentist's office is prepared to help you enjoy the stability and comfort of a permanent denture held in place with dental implants!
Are You Fed Up With Unstable Dentures?
If you have already received dentures and are growing frustrated with them, implants can help! Over time, a custom prosthetic can feel insecure, and it can become surprisingly difficult to keep in place. This is due to changes in your jaw health over time. Without the roots of your teeth stimulating the bone, your jaw will lose mass, and that gradual change will impact the fit of your restoration. Dental implants remove this concern because they are able to stimulate the bone and keep it healthy. They also provide a kind of fixed support that is difficult to match with suction or epoxies.
Using Dental Implants To Hold Your Restoration
A set number of dental implants will be inserted directly into your jawbone to hold a restoration in place. We can determine the number of implants you need, and the right positions for them, at an evaluation to plan your smile treatment. After they are put in position, we will give you time to heal and ensure that the implants are secure and stable. Once you are ready, we can welcome you back to set your custom denture in place!
Life After You Gain A Permanent Prosthetic Appliance
Life after addressing tooth loss can be something you understandably look forward to. You can maintain a wider diet because you have better bite support, and you can be free of concerns about your restoration slipping or becoming loose. In addition to practicing good oral hygiene to keep your smile healthy, make sure you keep up with regular exams so that your dentist can confirm there are no issues to address.
Talk To Your Londonderry, NH Dentist About Permanent Dentures
Through work to restore your denture with a set of dental implants, we can give you back the ability to bite, chew, and speak with renewed confidence, and we can help you regain your full smile! To learn more, please contact our Londonderry, NH dental office at 603-965-3407.