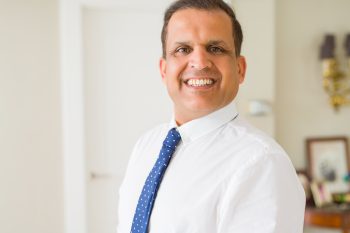 Your teeth do more than just give you an attractive smile – can your dentures do more than just restore your appearance after tooth loss? For those who depend on removable dentures, it can be difficult to maintain a strong, comfortable bite, particularly if their dentures are beginning to feel loose or insecure. This can become a problem over time because of jawbone deterioration, a long-term consequence of tooth loss. What you can do about this issue is look into dental implant-held dentures. Our Londonderry, NH dentist's office can work with you on fully restoring your smile with an implant-held restoration that provides more comfort during your day, as well as more support whenever you bite and chew food!

Do You Worry That Your Dentures Are Not As Stable As They Should Be?
For people who have been dependent on removable dentures, stability can become an increasing point of concern. Over time, your dentures may start to feel as though they do not fit as well, and it can be harder to keep them in place as you go about your day. What can you do about this? Unfortunately, jawbone deterioration is a consequence of tooth loss, one that occurs because our teeth roots are no longer in place to stimulate the bone. However, this does not mean there will be no way of addressing this problem. Dental implants, in addition to holding prosthetic appliances in position, actually do provide stimulation, making it easier for you to maintain healthy bone tissues.
Using Dental Implants To Support Dentures
With a series of dental implants, we can give you a means of permanently securing your denture. Unlike many other dental practices that send patients to a different location for implant placement, we can plan every step of your procedure in-house. That means more convenience for you, and the ability to see the people you trust for every part of your procedure. We carefully determine the number of implants that you will need for your treatment. After they are placed, and you have healed, you can return to us to have your denture set in place.
The Link Between Dental Implants And Jawbone Health
Jawbone deterioration is a consequence of tooth loss, one that becomes more serious as you lose more teeth. This problem can affect the fit of your dentures, but it can also impact your general oral health and appearance. When dental implants are put in place to hold dentures, they let you regain more confidence in your appearance and oral health while also stopping the threat of jawbone tissue loss.
Talk To Your Londonderry, NH Dentist About Dental Implants
While dentures provide the important service of restoring a row of teeth, they may feel less than comfortable as time passes. Difficulties with jawbone deterioration can make previously secure dentures feel loose and awkward. However, when you commit to dental implant-held dentures, you can enjoy more bite support and also enjoy better security from your appliance! To find out more about how we can help you regain your smile and bite function, set up an appointment at My Dentist in Londonderry, NH by calling 603-965-3407.