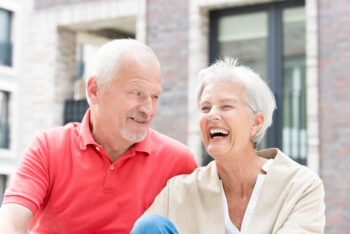 Losing an entire row of teeth can feel devastating, but this is a problem that can be effectively addressed when you plan the appropriate prosthetic treatment. While removable dentures can provide important support after this occurs, your satisfaction with your restoration can change gradually. Part of this is because jawbone deterioration that occurs after tooth loss can change the way your prosthetic fits, which means it can become less comfortable over time. You can also feel frustration with the relative lack of support it offers your bite. At our Londonderry, NH dentist's office, we can recommend that you make the move to an implant-held denture, which can offer more stability as well as support for your jaw health.
Are You Growing Unhappy With Your Removable Denture?
A removable denture can certainly resolve cosmetic problems caused by tooth loss, but it can fall short of fully addressing its impact on your oral health. For instance, you can find it tough to bite and chew when you depend on a removable restoration. You can also grow less comfortable with it because jawbone deterioration, which happens after the loss of teeth roots, makes it less secure. The good news is that you can actually make a transition to a secured restoration, one that is held in position with carefully placed dental implants. This can give you more functional benefits and make your restoration feel more comfortable!
What Implant Dentistry Does For People Affected By Tooth Loss
For people who have suffered tooth loss, implant dentistry can be beneficial for several reasons. One is that you will have the implants themselves in position to perform roles once performed by your teeth roots. For someone with partial tooth loss, this means providing more support for neighboring teeth. A person with a missing row of teeth can still benefit from this arrangement, as their posts will stimulate the surrounding jawbone tissues and keep up with the flow of nutrients to it. This helps with the problem of tissue loss over time. Another advantage to this approach is that with more functional support, you can have an easier time applying force whenever you bite and chew food.
Preserving Your Oral Health After Treatment
Whether you have a full denture, a bridge, or no prosthetic restoration at all, you should be committed to your regular dental checkups if you want to preserve your smile. For people who have lost teeth, these visits provide opportunities for us to check on older prosthetic appliances and make sure that they are still secure and in good position. This is also an opportunity to make sure that your natural teeth are safe from problems that can affect them.
Talk To Your Londonderry, NH Dentist About Implant-Held Dentures
If you would like to learn more about making the move to implant-held dentures, contact our Londonderry, NH dental office at 603-965-3407.