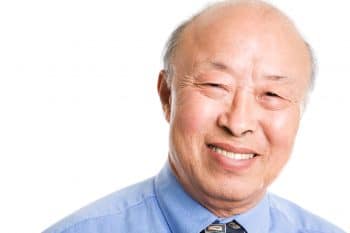 The total loss of your upper and/or lower teeth can feel devastating. It is hard to overstate how this can impact your diet, and how it might lead to a reduction in confidence. At our Londonderry, NH dentist's office, we are prepared to help people who have experienced significant tooth loss and are interested in prosthetic treatment. We can actually provide you with a permanent restoration, meaning it can remain stable throughout the day to the point where it can be used for biting and chewing. We provide implant-held dentures, which are secured by a series of dental implants. This can be a welcome treatment option for people who are looking to undergo prosthetic treatment for the first time, and for those who are frustrated by poorly-secured loose dentures.
A Series Of Dental Implants Can Keep Your Denture Firmly In Place
With strategically placed dental implants, it is possible to secure a permanent denture. The implants are set directly into your jawbone, where they will hold the restoration in position. This provides a natural appearance, so you can feel confident in the smile that results from treatment. It also offers enough stability to let you comfortably bite and chew with your restoration. This can be relief for people who have had to give up favored foods due to difficulties with their dental function.
Making Plans To Restore Your Smile With Implant-Held Dentures
When planning prosthetic dental work that requires the placement of implants, your dentist will take care to examine your jawbone and periodontal tissues thoroughly. It is important to confirm that there are no issues that might complicate treatment. If there are concerns, they can often be addressed with preliminary work. One concern is with jawbone resorption, an issue that can occur when your teeth roots are no longer present to stimulate the bone. If you have worn loose dentures for an extended period of time, and they no longer feel comfortable, that deterioration may be why.
In many cases, our practice can plan both the placement and restoration of your implants. After their placement, there is a healing period where your jawbone will actually fuse with them. When the healing process has been completed, we can have you come in to have your custom denture (or dentures) set in place.
Dental Implants Can Also Help With Partial Tooth Loss
Dental implants can effectively hold a full denture in place, but they can also help with partial tooth loss. By securing a dental bridge or dental crown, we can close a gap in your smile with an appliance that you can trust to contribute meaningful bite support.
Talk To Your Londonderry, NH Dentist About Implant Dentures
At My Dentist in Londonderry, NH, patients who are eager to have a full smile again can talk to us about implant dentures. With implant dentures, we can help people with advanced or total tooth loss enjoy a confident smile and a better bite thanks to their permanent prosthetic appliance! To learn more, contact our Londonderry, NH dental office at 603-965-3407.