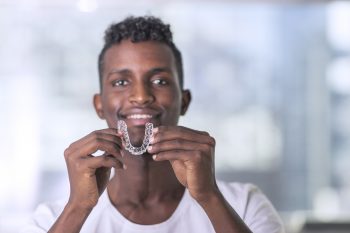 Problems with your smile alignment can negatively affect your appearance as well as your oral health. If you start to look into treatment, you can find that this issue – known as malocclusion – can be addressed without traditional metal braces. For a discreet alternative to these appliances, talk to your Londonderry, NH dentist about Invisalign aligners. These clear aligners can make orthodontic treatment more discreet. They also make treatment easier because you can remove them without difficulty. The end of your adjustment can give you more confidence in your smile, and it can help improve your bite function.

Are You Tired Of Feeling Unhappy With Your Smile?
Malocclusion can be a frustrating issue, one that may make you struggle to feel good about your appearance. You should be aware that this problem can also negatively affect your oral health. One reason for this is that you may develop issues with your bite function, something that can lead to troubles with TMJ disorder. Difficulties with poorly aligned teeth can also affect your oral hygiene efforts, as some teeth can prove difficult to thoroughly clean. Rather than live with these issues, you can speak with your dentist about starting Invisalign treatment.
Gradual Corrective Work With Invisalign Aligners
With Invisalign aligners, we can help you take on trouble with your smile caused by gaps and overlaps between teeth. We take care to gather close measurements of your teeth and oral structures. This helps with the design of your custom appliances, and it allows us to determine the right way to adjust your teeth. When your appliances are ready, you can begin the adjustment process by wearing clear appliances that are difficult for others to notice. This helps you confidently wear Invisalign aligners even in situations where you may be more conscious of your appearance. While you should keep appliances on throughout the day, you can remove them whenever you eat, or when you need to clean your teeth.
What To Look Forward To After Your Procedure
When you finish your smile adjustment, you can feel better about your appearance as you no longer have to feel self-conscious because of visible gaps or overlaps in your teeth. Your straightened smile can also be more symmetrical, which can make you feel better about the way you look. Better alignment can also make biting and chewing easier, reducing your risk for TMJ disorder.
Talk To Your Londonderry, NH Dentist About Invisalign
Invisalign appliances make it easier for patients to commit to orthodontic work, as they will not have to worry about life with fixed, conspicuous braces. Our practice can help you show off a more confident smile, and we can take care of alignment issues that can affect your oral health. To find out more, contact our Londonderry, NH dental office at 603-965-3407.