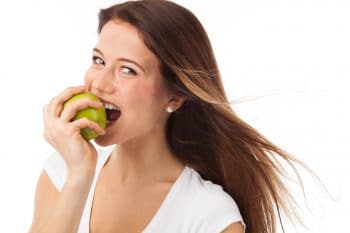 When oral health problems develop, the matter can become serious if not treated properly. You can experience unwelcome changes to your appearance, and you may even develop persistent pain in a tooth if nothing is done to take care of a tooth in poor condition. Tooth decay, physical injuries, and tooth loss also create potential problems with your bite function that can seriously impede your quality of life. At our Londonderry, NH dentist's office, you can look forward to restorative dental work that renews your confidence in your smile. In addition to taking care of teeth that look unsightly or unhealthy, we can provide restorative work that allows you to bite and chew with greater comfort.
A Dependable Bite Helps You Maintain A Healthier Diet
Your bite function can affect how easily you are able to maintain a varied, nutrient-rich diet. Many lean meats, fruits, and vegetables can be difficult to enjoy if you are limited in your ability to bite and chew. Because of this, people who have a history of poor oral health may give up on different items and subsist on a less than ideal diet. Over time, a lack of nutrients can weaken the ability of your teeth to avoid problems, and you can be more vulnerable to general health problems!
Replacing And Restoring Teeth To Improve Your Smile And Bite
Our practice is prepared to take on minor tooth problems that call for dental fillings, but we are also here to help if you need more involved treatments. This includes prosthetic dental work – if you have lost teeth and want to bring back your full smile, we can provide lifelike and durable restorations. You can also have remaining teeth secured with permanent dental crowns that help you bite without discomfort.
We Can Take On Emergency Issues, Too
Sometimes, problems can arise suddenly and demand treatment. If you need dental work on short notice, you can be happy to know that our patients do have access to emergency dental work. During emergency services, we can take care to determine how to best treat a damaged or painful tooth. Once the problem is evaluated, we can move forward with the kind of quality care that can lead to important cosmetic and functional improvements.
My Dentist Provides Restorative Dental Services For The Londonderry, NH Community
At My Dentist in Londonderry, NH, patients can count on us to provide a range of important oral health services. With the right procedure or procedures, we can address all of the issues that impact your ability to bite, chew, and speak while also taking care to restore your smile. If you would like to learn more about our office, please call My Dentist at 603-965-3407.