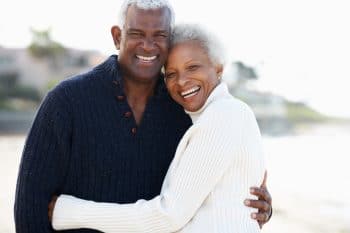 How comfortable are you with showing off your smile? After tooth loss, it may be hard for you to readily reveal to people that you have a gap where a tooth once resided. For people who have lost several teeth, actions like eating, speaking, and laughing can start to become uncomfortable because of the way they look. These problems can be addressed through modern prosthetic dental work. At our Londonderry, NH dentist's office, individuals who have experienced tooth loss can receive lifelike dental restorations that can renew their confidence in their appearance. With a dental prosthetic secured with a dental implant, you can even enjoy improved confidence and comfort with biting and chewing.
Your Prosthetic Can Help You Show Off A Full Smile Once Again
The right prosthetic can be custom-made to address your issues with tooth loss. In addition to replacing a single missing tooth with an attractive restoration, we can design a dental bridge, or use a partial denture to fill in a row of teeth affected by several absences. We are even able to place full dentures, which can take care of an entire row that is missing.
How Long Will It Take To Fully Restore My Smile?
The process of fully restoring your smile can vary depending on what type of prosthodontic care you are receiving. The placement of a custom dental bridge can be completed without oral surgery, and it can leave you with a permanent prosthetic that provides biting and chewing support. This appliance is held in place with a pair of dental crowns that are fitted over teeth surrounding a gap. We can also keep a partial denture in place thanks to discreet clasps on the backs of teeth. For permanent prosthetic support featuring dental implants, the process can require more time, but it can leave you with a stable, attractive restoration that helps you maintain your oral health as well as a comfortable bite.
Using Dental Implants During Prosthetic Work
With prosthetic work that involves the use of dental implants, your dentist can make sure your restorations is permanently held in place. Dental implants are secured through oral surgery, as they are placed directly into your jawbone. Once they are in position, and you have healed appropriately, you can have a custom restoration affixed. While many dental offices require patients to visit another location for implant placement, we can perform many implant placement procedures in-house.
Talk To My Dentist In Londonderry, NH About Prosthetic Dental Work
At My Dentist in Londonderry, NH, patients who have experienced tooth loss can meet with us to discuss prosthetic dental work. The right procedure can give you back your full smile, and even help you feel comfortable biting and chewing. To find out more, contact our Londonderry, NH dental office at 603-965-3407.