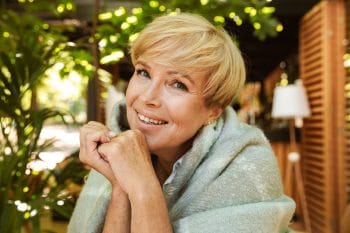 It may not be possible to save a tooth after an injury, or after you develop an advanced cavity, but your smile can be made whole again. At our Londonderry, NH dentist's office, we are prepared to help patients who have lost a tooth and want to enjoy the benefits of modern prosthetic dental work. We can make plans to both place and restore a dental implant in order to close your smile gap, and help you enjoy better dental function. Dental implants provide important stability for prosthetic teeth. They can help you bite and chew with more comfort and also keep neighboring teeth from shifting. These benefits make implants an effective long-term answer for tooth loss.
Receiving A Dental Implant-Held Restoration
What can you really expect from a restoration that is secured by a dental implant? By restoring your smile this way, your dentist provides you with an appliance that can help you stay consistent with your natural bite. Over time, this protects your remaining teeth from overuse, and it can keep you from developing a flawed bite that causes TMJ disorder. Implants also protect your jawbone, as they stimulate the bone to encourage the delivery of nutrients to these tissues. Without that stimulation, the bone can lose mass over time.
What To Expect When Your Treatment Involves Implant Placement
Our practice is often prepared to address both the placement and eventual restoration of your dental implant. The placement process is an important step, as we need to find the precise spot and angle for your implant to provide the best support for your restoration. A period of healing should occur after this is performed, at which time your bone can actually fuse with the post. At the appropriate time, we can bring you to our office again in order to secure your artificial tooth. A custom appliance can fit comfortably, and provide bite support that allows you to maintain healthy dental function over time.
You Can Also Receive A Dental Bridge To Restore Your Smile
While dental implants can provide important benefits, it may be difficult for some patients to undergo the oral surgery involved in placement. A dental bridge can provide a more cost-friendly approach to permanently restoring your smile, one that does not require oral surgery. A bridge is held in place with a pair of dental crowns. Once set, a bridge can be counted on to stay secure so that it can contribute appropriately when you bite and chew food.
My Dentist In Londonderry, NH Can Restore Your Full Smile!
At My Dentist in Londonderry, NH, we are prepared to restore your smile if you have experienced the loss of a tooth. If you wish to learn more, contact our Londonderry, NH dental office at 603-965-3407.