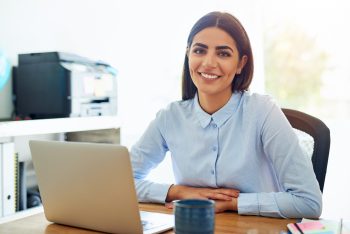 You may be able to name several improvements you would like to make to your smile, while being unsure what procedure, or procedures, might make those changes possible. At our Londonderry, NH dental practice, we can work with you to find the easiest path to completing all of your improvements with cosmetic dental care! We are experienced at helping people make their teeth whiter, fixing problems with the shape and size of certain teeth, and correcting dental damage. If your goals involve correcting your dental alignment, in addition to these other improvements, we can talk to you about pairing orthodontic work with Invisalign with additional services.
Using Clear Aligners To Straighten Your Teeth
If you want to do something about teeth that appear crooked, that overlap, or otherwise appear to require adjustment, clear aligners can help! At our practice, we can use Invisalign aligners to help our patients fix issues with the positioning of their teeth. You can prefer Invisalign to conventional orthodontic care because you will not have to worry about people noticing your braces, and you can easily remove an appliance when it seems to be in your way.
Planning Multiple Procedures To Make Big Smile Changes
We can talk to you about combining an Invisalign adjustment with work to address teeth stains, or other flaws, to help you enjoy the most noticeable improvements! If you want to fix problems with poorly spaced teeth, as well as issues with stubborn teeth stains, your orthodontic adjustment can be followed by a professional teeth whitening procedure. At our practice, we can offer a custom whitening kit that you can take home, or we can discuss combining an in-office treatment with a take-home kit to help with particularly tough stains. If you want to fix problems with poor alignment, while also addressing problems with mouth lines or wrinkles, we do offer treatments that involve Botox and dermal fillers.
Can A Cosmetic Procedure Hide Alignment Flaws?
Sometimes, a single cosmetic treatment is capable of helping a person deal with all of their perceived flaws. You may find that your teeth can be made to look straighter, healthier, and brighter with the placement of custom porcelain veneers! After an evaluation, your dentist can let you know if you qualify for this approach to cosmetic work, which can lead to a dramatic transformation in as little as two appointments!
Talk To My Dentist In Londonderry, NH About Reaching Your Smile Improvement Goals
At My Dentist in Londonderry, NH, we can offer great smile improvement goals through cosmetic dental work! We can arrange cosmetic dental work with Invisalign, followed by additional work to make sure your changes address all of your concerns. We can also look into taking on all of your flaws with the placement of veneers! To find out more, please call our practice at 603-965-3407.