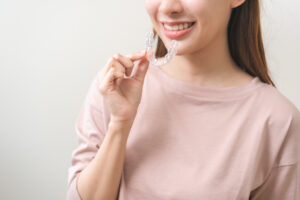 Do you have misalignment? Poor alignment could lead to issues with the health of your smile, and your appearance too. Instead of using metal braces to treat your misalignment, we could offer an alternative. In today's blog, your Londonderry, NH, dentist talks about the Invisalign® process.
The Factors Behind Your Uneven Teeth
Dental misalignment could occur for a number of different reasons. For example, you could experience poor alignment due to premature tooth loss, injury to the face or jaw, issues with the development of the jaw and the eruption of the teeth, or even issues in childhood, such as thumb sucking. When you have crooked, crowded, or overlapping teeth, then you could feel embarrassed about your appearance, but also have trouble brushing and flossing thoroughly, which means a greater risk of tooth decay and gum disease. The strain on your jaw joints could lead to trouble too, increasing the risk of TMJ disorder and bruxism (teeth grinding). Our team can offer treatment for misalignment that protects your oral health, improves smile beauty, and doesn't impact your professional appearance in the process.
Creating Custom Clear Orthodontics
To begin, we will take a close look at your smile with detailed digital imagery, so we can assess the cause and severity of your misalignment. Experts in a dental lab setting will then use the images and measurements to design and craft your aligners, which are all custom-made for your smile. Each one is made from a BPA-free plastic material, and fits comfortably to prevent gum and cheek irritation. They're clear in appearance, so you have a nearly invisible road to an even smile.
The Treatment Process
The treatment process is pretty simple. Each day, you will wear a set of the aligners for about 20 to 22 hours on average. Each set is worn daily for about two weeks, and you repeat the process for about a year. If you have a more advanced case of misalignment, you may need up to 18 months, but this is still less time than braces requires! The aligners are easy to clean and use, and you can remove them before you eat so you don't have to alter your diet and avoid certain foods. Being removable also means a much easier time bracing and flossing. If you have any questions about how we treat misalignment with our clear aligners, or if you're ready to start the Invisalign® process, then contact our team today to learn more.
Learn More About Our Clear and Cozy Orthodontics
We want to help you enjoy an even smile with our clear alternative to metal braces. To learn more about our Invisalign® clear aligners, then give us a call at My Dentist in Londonderry, NH at (603)965-3407!