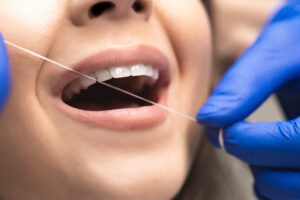 Periodontics are treatments designed to reverse inflammation or manage gum disease, protecting your smile from poor oral health. Treatment could range from scaling and root planings or extractions. In today's blog, your Londonderry, NH, dentist talks about our approach to periodontics and keeping smiles whole.
Gum Disease
Periodontal disease impacts half of smiles in those ages 30 and older. The disease occurs when the gums become inflamed. Also known as gingivitis, this occurs due to plaque and tartar buildup, inflammatory illnesses, the use of certain medications, a family history of the disease, and tobacco use. In the gingivitis stages, you could notice sore, red gums that bleed easily. As gingivitis progresses into periodontal disease, you could also notice receding tissues that make teeth appear longer. Treatment is crucial to avoid the advanced stage, known as periodontitis.
The Link to Tooth Loss
During the periodontitis stage, the tissues connecting your teeth and gums could become severed, leading to an increased risk of loose or even missing teeth. In fact, this is the number one cause of adult tooth loss. Which is why when you first notice any changes to your smile, you should let us know right away. Even better, try to attend checkup and cleaning visits every six months so we can identify the first signs of trouble and administer treatment before you even experience discomfort.
Periodontic Treatments
Treatment options could vary depending on the severity of the disease. For example, in the early stages of gingivitis or periodontal disease, we could conduct a deep cleaning known as a scaling and root planing. During this procedure, we use an ultrasonic scaling device to remove all plaque and tartar from the teeth and roots, followed by polishing the teeth. This could reverse gingivitis or make periodontal disease manageable with traditional cleanings every three of our months. For more advanced stages, we could discuss treatments to manage the disease and also address issues with gum recession.
Your gums frame your smile and support your teeth, so keeping your smile healthy and beautiful means good periodontal health! If you have any questions about how our team diagnoses and treats concerns with the health of your gingival tissues, or if you have soreness and redness present, then let us know right away. We want to help you and your family enjoy full and beautiful smiles for years to come!
Learn More About Improving Your Oral Health
Our team wants to help you enjoy a full and healthy smile, without the risks associated with periodontal disease. You can show off your teeth with confidence, and avoid issues like tooth loss. To learn more about managing periodontal disease, then give us a call at My Dentist in Londonderry, NH at (603)965-3407!