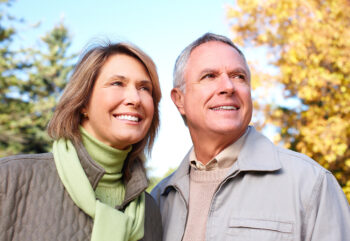 Losing an entire row of teeth can leave you in a state of embarrassment over your smile and concern over your oral health. When this problem occurs, people can expect that treatment will come in the form of dentures. What you might not realize is that our Londonderry, NH dentist's office can actually provide dentures that are permanently secured with implants. This makes it easier for you to rely on your restoration to offer support when you bite and chew, and it can make you more comfortable with their presence. It also removes concerns about slipping and other concerns, and it can even have benefits for preserving your jaw health.
Implant Dentures Can Offer Impressive, Lasting Benefits
Through implant dentistry, it is possible for you to receive a custom restoration that can enjoy permanent support as part of your smile. Whether you need to address the loss of one tooth or many, including implants in treatment will help you gain more from prosthetic treatment. At our practice, we can recommend their use to patients dealing with different problems, including those who want to address the loss of an entire row of teeth. Implant dentures will be permanently secured with a set of small titanium posts that are carefully set in position to provide the lasting hold that you require.
How Implants Keep Dentures Secure
Dental implants are small titanium posts that take up space in the areas where your teeth roots were previously held. After they are set, you will be given time to heal. The process will actually see jawbone tissues fuse to the posts, as they are made with a biocompatible material. Upon your return to our practice, we can make sure that your implant placement recovery has progressed to the point where you can receive your personalized denture. Only a few strategically placed implants are required in this process, which means there is less preparatory work involved than you might realize.
Maintaining Your Oral Health After Prosthetic Treatment
Whether you have a history of oral health issues or not, you should commit to a smile care routine that includes both daily care and regular dental exams and cleanings. At your regular appointments, we can check on the status of a secure denture to make sure that it remains secure and in good condition. We can also provide the kind of general care that helps you avoid problems that might affect your remaining teeth.
Talk To Your Londonderry, NH Dentist About Implant Dentures!
Through the restoration of your full smile with implant dentures, it is possible for you to dramatically improve your appearance and dental function. Our practice is ready to discuss this service with you, and we can lay out plans to take on any other issues that currently affect you. For more information, please contact our Londonderry, NH dental office at 603-965-3407.