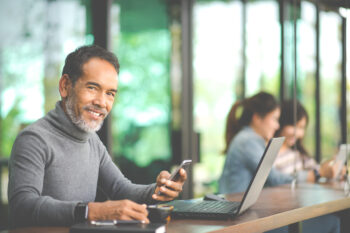 As we turn the page on the past year, it is time to write down our plans and goals for 2023. If you are struggling with a failing tooth or have recently had an extraction, this can be an exciting time. Take charge this following year in your dental destiny with a strong new dental implant.
At our office in Londonderry, NH, we are proud to offer clients a titanium bond that can actually improve with time. Discover why this process is quickly becoming a staple within the dental world. An osseointegrated post can give you unparalleled new bite strength. Tooth loss does not have to mean a decrease in the quality of your smile!
A Titanium Connection Gives Extraordinary Results
The true success of a dental implant solution is through the use of a titanium post to connect to the jaw. While our body recognizes other metals as being foreign, the specific chemical makeup of titanium interacts well with our immune system. Osseointegration is the term for this process, which allows for a snug connection between prosthetics and our own natural tissue. This interaction is particularly strong and a new sensation can even develop through the vibration of the metal. Limb replacement surgeries are seeing amazing results using this principle.
There will be a time of recovery to ensure that your bone grows tightly to the threads in the post. Once this is complete, then the placement of your new prosthetic tooth can give you a strong new solution that can keep your mouth safe for years to come.
A Custom Solution For Your Individual Mouth
Another significant benefit of the use of a dental implant with a treaded titanium post is that future loss can be adjusted and expanded when necessary. Dental crowns can place additional stress on the remaining structures around a lost tooth. If these are weakened, they may not be able to support the additional strain without risking their integrity as well.
Implants can help you to plan for any future loss up to the point of a full mouth of implant-supported dentures. This procedure is becoming increasingly popular as a versatile alternative to traditional methods. Speak with your trained oral health professional about how we can restore the vigor to your bite with a beautiful new implant solution that fits your individual smile.
Renewing Smiles In Londonderry, NH
The loss of a tooth can be an opportunity to renew strength and vigor to your bite. For more information on how our gorgeous prosthodontic solutions can help you smile with confidence, give My Dentist in Londonderry, NH a call at 603-965-3407. Take control of your dental future in 2023 with a beautiful new dental implant that can look and feel wonderful!