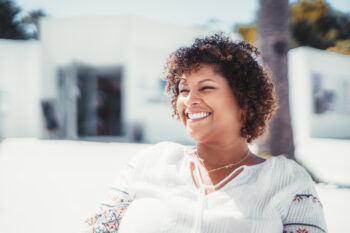 Many people have struggles with their smile, but opt to live with their situation rather than looking for help. Often, the reason that holds them back is through the hassle of scheduling and finding the time. But with the advent of new technologies, this inconvenience is much smaller than it was in the past.
Alignment concerns can easily be removed through the use of clear aligners, which are worn throughout most of the day. This can provide a discreet way of shifting the structures of the mouth, so that the rest of the world does not need to be aware of your procedure. Porcelain veneers can provide relief in many different situations, including alignment or issues with the individual shape of the teeth. Today, your Londonderry, NH dentist explains that your smile can be improved without a lot of work!
Invisalign® Clear Aligners
One of the most popular advancements of the past twenty years has been Invisalign® alignment treatment. These are a set of progressive clear aligners that you wear most of the day. You can remove these during eating and oral maintenance, but you will keep them in when you are asleep.
There are many different benefits that come with this process over traditional orthodontic techniques. Firstly, this opens the procedure up to people of all ages. Older professionals may feel uneasy at the prospect of having months of traditional braces. They may feel that it is harder to be taken seriously, even though it is a way to improve yourself.
This also can provide protection to the enamel. Instead of pulling the teeth around using cemented points, the teeth are gently corrected by moving them entirely. Expanding the point of contact can put less stress on individual spots.
Versatile Veneers
Porcelain veneer procedures are one of the most popular within the United States, and for a very good reason. Our enamel is simply not strong enough to support the existence of a full modern life, even when handled with the best of oral health maintenance. And the starting point may have issues as well!
If you have any form of misshapen teeth, even slightly unappealing ones, this process can easily remedy them. Our ceramicists craft your unique new smile with all of your concerns in mind. Be sure to explain all your issues to your trained oral health professional!
We can adjust alignment through the scale and shape of these new enamel enhancements. Gaps can be readily removed, and overcrowding can be eliminated. Always keep an open and honest dialog with your dentist, so that they can have the most information on how to help you!
Questions Or Concerns?
To learn about the variety of cosmetic options we have available to you, please reach out to our Londonderry, NH dental office at 603-965-3407. We'd love to hear from you!