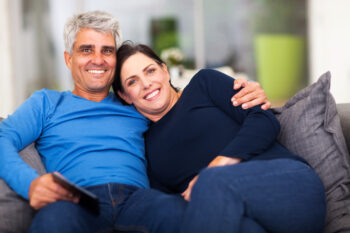 Over the years, a person's appearance will go through gradual changes. While we often think about aging's effect on our skin, hair color, and general health, it can also take a toll on our teeth. Enamel erosion can lead to visible wear and tear as well as a loss of brightness. Problems with accumulated teeth stains can further hurt the way we look; even if teeth remain healthy, those stains can lead to embarrassment. Your Londonderry, NH dentist's office can help you take on problems with the way you look that can be traced to aging. With the right services, we can give you a more youthful and confident look by taking on discoloration, wear and tear, and more!
Our Teeth Can Become Less Attractive Over Time
While good oral hygiene habits and regular dental checkups can certainly help protect your smile, the years can have a noticeable effect on your teeth. You can experience a gradual buildup of enamel stains that make your smile less attractive, and years of biting and chewing can cause erosion of your enamel that will hurt how you look. Taking on these and other cosmetic concerns can help you show off a more youthful appearance overall, and you can find that the right way to care for these issues will require less time and effort than you anticipate.
Dealing With Wear And Tear, Enamel Stains, And Other Age-Related Concerns
For problems with enamel erosion and wear and tear, we can discuss the positive impact of porcelain veneers. With veneers, we cover the front surfaces of teeth to hide different problems with the way they look. They can reshape your teeth and resize them, helping with erosion. They can also help to deal with intrinsic discoloration that may affect you.
For enamel stains that have gathered through the years, we can recommend teeth whitening treatment. The bleaching agents that we use can safely fight stains that are harder for you to deal with on your own, leading to your smile becoming brighter by many shades!
We Can Offer Botox And Dermal Fillers For Patients Interested In Cosmetic Improvements
In addition to directly dealing with cosmetic flaws that affect your teeth, we can recommend services with Botox and dermal fillers to improve the appearance of your skin around your smile. Whether you want to take on these services on your own or in addition to work on teeth, we can provide care to help you show off a more youthful and confident appearance.
Talk To Your Londonderry, NH Dentist About Cosmetic Treatment To Hide Signs Of Aging
Aging can lead to many unwelcome smile changes. Fortunately, the right cosmetic procedure can help you! If you would like to find out more, please reach out to our Londonderry, NH dental office at 603-965-3407.