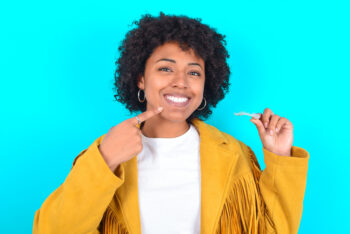 Are you tired of living with doubts about your smile because of untreated spacing issues? It can be hard to ignore the effect that this problem has on you, but it can be difficult for some people to ask about treatment because they worry about life with metal braces. At our Londonderry, NH dentist's office, we can offer treatment that uses Invisalign aligners instead of bracket-and-wire braces. By making the commitment to straighten your smile with clear aligners, you can take on trouble with your smile with a more discreet, patient-friendly approach!
Are You Embarrassed By Poor Teeth Spacing?
Poor teeth spacing can rob many people of confidence in how they look. The issue creates unsightly gaps and awkward overlaps that become distracting, and it can have the general effect of making your smile look asymmetrical. Just as a person can be embarrassed by poor teeth spacing, they can also feel self-conscious about the idea of using metal braces because of their conspicuous appearance. Fortunately, another option is available—thanks to Invisalign, you can move teeth discreetly, which can make you more comfortable committing to care!
Planning Care With Invisalign Aligners
By planning smile care with Invisalign aligners, you can move forward with care that can improve your appearance and offer oral health benefits! The set of appliances that you receive will be custom-made for you. Each one will take you on part of the journey to a fully straightened smile. You can comfortably remove appliances on your own, so they will not be in your way when you eat or clean your teeth.
What Else Can I Do If I Want To Improve My Smile?
We offer more than just Invisalign to patients who want to fix teeth spacing issues. Your other options include work with porcelain veneers. By taking on cosmetic flaws with veneers, you can see significant changes in just a short time. Those changes include improvements that make your smile more symmetrical, as you can cover gaps and overlaps while also changing teeth shapes and sizes. Veneers also give you the means to hide blemishes and damage to enamel.
Talk To Your Londonderry, NH Dentist About Invisalign!
By talking to your dentist about Invisalign treatment, you can learn about an effective treatment for poor spacing that can make smile improvements more accessible. We can offer this service in order to help you fix gaps, overlaps, and other flaws that affect how you appear. In addition to providing this form of care, we offer other cosmetic services that can help you improve how you look, and we can provide support whenever you are in need of restorative treatment. If you would like to find out more, please reach out to our Londonderry, NH dental office at 603-965-3407.