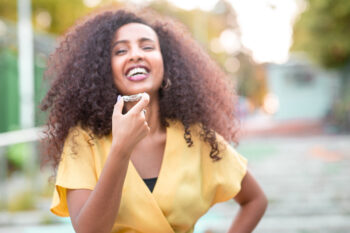 Do you feel self-conscious about the way you look because of poor teeth spacing? While many people feel self-conscious about this issue, some will hesitate to look at their treatment options because they assume they will need to wear conspicuous metal braces. Letting this assumption keep you from treatment can mean missing out on the important benefits of corrective work. It can also mean missing out on the option of fixing smile flaws with discreet Invisalign aligners, a service provided at our Londonderry, NH dentist's office. These appliances will make it easier for you to resolve problems with gaps and overlaps that have made your smile less attractive. In addition to being hard to see, you can find that they are easy to remove, so you will not have to worry about their impact on your day-to-day life.
Is Your Smile Negatively Affected By Poor Spacing?
Problems with teeth spacing due to malocclusion can be a source of discomfort. Your alignment issues can make your smile appear asymmetrical, which is something that can throw off your general appearance. It is also possible for this issue to negatively impact your bite function, something that raises your risk for dental problems, including TMJ disorder. Until you do something about this, it can continue to hurt your confidence and quality of life. Fortunately, a discreet treatment in the form of Invisalign is able to help!
Planning Treatment With Invisalign Appliances
Invisalign appliances will help with problems like gaps, overlaps, and other issues that occur when you have teeth out of proper alignment. These aligners are custom-made to help you reliably straighten out your smile while having appliances that stay secure as well as discreet. Your treatment will be easier to fit into your daily life because Invisalign is a removable treatment option, so you will not have to contend with appliances while you eat and clean your teeth.
Discussing Other Services That Can Improve The Way You Look
There are different cosmetic services that are available to our patients who want to do something about malocclusion and other smile flaws. Your treatment with porcelain veneers can effectively hide alignment issues as well as problems with the color and condition of your teeth. They can be placed in two appointments, so you can see the results that you anticipate in a surprisingly short time.
Talk To Your Londonderry, NH Dentist About Invisalign
With the option to have your smile straightened with Invisalign aligners, you can enjoy cosmetic improvements while minimizing the impact that orthodontic work can have on your daily life. If you would like to find out more about this service, or to discuss another one that can improve your smile, you can contact our Londonderry, NH dental office by reaching us at 603-965-3407.