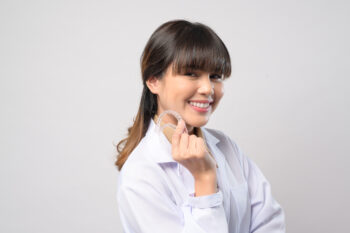 If you made a list of cosmetic improvements that interest you, would you include a goal of straightening your smile? For many people, dental flaws are a big concern, as our smiles tend to be among our most prominent features. Unfortunately, it is often assumed that the only way forward with orthodontic treatment requires the use of metal braces that are fixed in place and hard to overlook. If you believe this to be the case, you may continue to put off an adjustment because you are worried about how it will affect your daily life. What you should know is that a discreet alternative to this kind of care is available. Our Londonderry, NH dentist's office can meet with you to discuss work with Invisalign aligners, a set of clear appliances that make the process of straightening teeth discreet and surprisingly easy to fit into your daily life!
Are You Ready To Straighten Your Awkward, Uneven Smile?
Poor smile alignment can be a glaring cosmetic flaw even if your spacing problems are relatively minor. Any gaps or overlaps that are present between teeth can both interfere with your facial symmetry and attract more attention than you want. The good news is that it is often possible to take on these issues with clear aligners, which make orthodontic services more discreet as well as easier to fit into your daily life. A personalized Invisalign treatment plan can help you change your smile, and it can also help you with different oral health concerns!
Planning A Procedure With Invisalign Aligners
Through the use of Invisalign aligners, we can gradually straighten teeth that are out of position. Your care will depend on a set of appliances, with each one representing a different part of a plan to fix the positions of teeth that are not in place. They are designed after we take thorough measurements of your teeth and oral structures, which is how we are able to plan care around your specific needs and concerns. Once you start your adjustment, you can find that your appliances are easy to wear in the course of your typical day thanks to their clear appearance, and easy to remove whenever they are in your way.
Discussing Other Cosmetic Services Available To You
There are times when we can use porcelain veneers to make desirable changes to your appearance when you have poor teeth spacing. Through their placement, we can use these restorations to hide minor gaps and overlaps. They are also effective for treatments when patients want to do something about discoloration, dental damage, and problems with tooth shape and size.
Talk To Your Londonderry, NH Dentist's Office About Invisalign
Through the use of Invisalign aligners, you can take on embarrassing problems with teeth spacing that make you unhappy with your smile. If you would like to learn more about how we can help you, please contact our Londonderry, NH dental office at 603-965-3407.