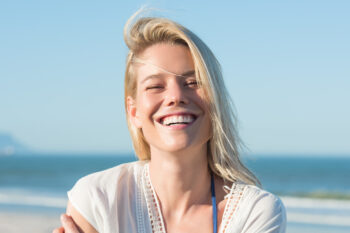 Once you notice the effect that enamel stains have on your appearance, you can find it difficult to smile with the same degree of confidence. Changing your diet to avoid future stains can certainly benefit you, but you can still feel stuck with the embarrassing discoloration that is already present. At our Londonderry, NH dentist's office, we can recommend services that help to treat discoloration and make meaningful improvements to the way you look. Our office provides in-office services that can have results in one appointment, or we can work with you by providing a customized treatment kit that you use at home. If your stains are especially tough, a combination of these services can have a remarkable effect on your appearance!
Dental Discoloration Is An Issue For Many People
Problems with worsening teeth stains can become a major source of embarrassment. Even if you are keeping your teeth safe against decay, the prominence of your discoloration can raise questions about your oral health. Discoloration can also cause you to appear older than you really are, and it can generally shake your confidence in the way you look. The changes you see from using store bought whitening treatments can be limited. Fortunately, you do have the option of looking into professional cosmetic dental work. Through a professional whitening treatment, we can help you see remarkable smile changes that you are eager to show off!
Planning Your Teeth Whitening Treatment
Your teeth whitening treatment can take place in our office, or you can use a kit prepared at our practice in the comfort of your home. With both options, you benefit from the use of advanced whitening agents that can deal with stains that have settled into your enamel over time. By combining the in-office and at-home treatment approaches, we can help you deal with especially difficult problems with discoloration.
What Can You Do To Hide Internal Blemishes?
It is important that we identify what the source of your discoloration is before we recommend treatment. While teeth often look dull and discolored because of enamel stains, there are times when internal problems are the cause of concern. If you have this latter issue, known as intrinsic discoloration, we can recommend another approach to cosmetic treatment. Porcelain veneers can effectively hide these blemishes as well as a range of other potential concerns.
Talk To Your Londonderry, NH Dentist About Dental Discoloration
Through treatment for dental discoloration, we can help you take on problems with your appearance that have left you feeling self-conscious. If you would like to learn more about how a whitening treatment can change your smile, or if there is any other procedure that interests you, let us know! You can find out more when you contact our Londonderry, NH dental office at 603-965-3407.