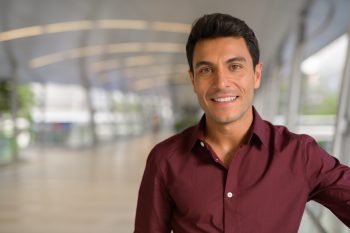 Even if a chip in your tooth is relatively small, it can feel uncomfortable, and it can be an unwelcome change to your smile that you are eager to address. However, you may feel wary about moving forward with treatment, as you may fear a longer or more involved restorative treatment is going to be recommended to you. At our Londonderry, NH dentist's office, we can take a look and determine if we can resolve the problem through cosmetic dental work. With a custom porcelain veneer, we can hide damage while only making changes to a portion of your tooth, leaving much of the structure unchanged.
Are You Currently Embarrassed By A Chipped Tooth?
Even if it does not interfere with your dental health, a chip in your tooth can hurt your confidence and make you feel uncomfortable with the way you look. That one chip can take away your smile symmetry, and it can become a focal point you wish others would ignore. The good news is that porcelain veneers make this a problem that can go away after just two appointments. At the first, we can perform minor preparatory work and take measurements to determine what shape and size the tooth should be. When you come back, you can receive a custom veneer that makes your tooth a good fit for your smile once again!
Cosmetic Dentistry And Tooth Injuries
Cosmetic dental work is not appropriate every time someone needs to address a dental injury. For some circumstances, it will instead be necessary to use a dental crown to provide bite support as well as esthetic changes. However, there are many occasions where we can proceed with a cosmetic restoration. Your veneer will only cover the front portion of your tooth, so the surrounding enamel will not have to be modified. The bonding process is permanent; when you take care to keep your smile healthy after treatment, you can count on the veneer to provide benefits for many years!
Other Improvements We Can Make With Porcelain Veneers
Porcelain veneers are capable of taking on many different cosmetic issues that make people self-conscious. They are sometimes used to help people with dental discoloration that will be difficult to treat with whitening agents. They can also help those who are interested in cosmetic dentistry because of misshapen teeth, problems with spacing, and concerns about teeth that look out of place due to their size.
Talk To Your Londonderry, NH Dentist About Restoring Your Chipped Tooth
My Dentist is ready to help patients regain confidence in the way they look by offering treatment with porcelain veneers. These slim restorations are capable of taking on many different issues with your appearance, including problems with teeth that are chipped or cracked. To find out more, contact our Londonderry, NH dental office at 603-965-3407.