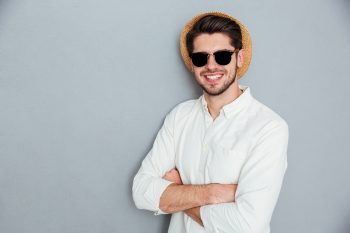 How much can one cosmetic dental procedure do to change your appearance? When you have custom porcelain veneers put in place to address visible flaws, you can see exciting improvements that dramatically improve the way you look! Veneers are thin shells that only cover the front portions of teeth. When they are in position, they hide damages, problems with misshapen teeth, discoloration, and other issues that hurt the way you look. At our Londonderry, NH dentist's office, we can recommend this treatment approach for many different people. Because it can do so much for you, your procedure can give you a significant confidence boost that you thrilled to share with the world!
How Do You Currently Feel About Your Smile?
Whether you have minor flaws or more conspicuous problems, you can find the benefits of a cosmetic dental procedure attractive. Through the right treatment, we can help you show off brighter teeth; hide damages that make your smile look unhealthy; cover gaps and overlaps that make your smile asymmetrical; and address a variety of other concerns. It can surprise you to learn that with porcelain veneers, you can take on several problems at one time. This leads to big improvements in a relatively short period, which can lead to an exciting confidence boost!
Using Veneers To Address Dental Flaws
Porcelain veneers are carefully-made custom shells that cover the front surfaces of your teeth. We take careful measurements to make sure that they are the right shape and size to both address problems with the way you look and appear natural when they are in position. A minor amount of preparatory work can ensure that your veneers will fit properly and look natural. When you return for your follow-up appointment, your veneers are bonded into place to deliver permanent improvements!
Preserving Your Smile After Treatment With Veneers
As slim as they might be, veneers are designed to provide long-term improvements. The porcelain material used to make veneers are capable of holding up against years of wear and tear, so you can maintain your appearance over time more easily. At regular dental exams, your dentist can check on the condition of your restorations to make sure there are no warning signs of trouble. When you discuss the benefits of this cosmetic procedure, you can ask questions about how you can more effectively care for your smile after treatment is finished.
Talk To Your Londonderry, NH Dentist About Veneers!
Through treatment with porcelain veneers, My Dentist in Londonderry can help you show off an exciting smile improvement! We can help you understand the benefits of cosmetic care, and we can also work with you to take on any oral health concerns that you have. To find out more, please contact our Londonderry, NH dental office at 603-965-3407.