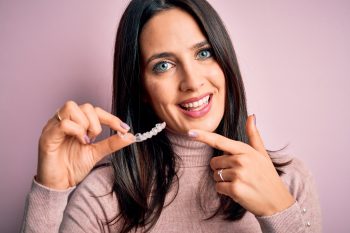 Is this a good time for you to start treatment with Invisalign aligners? Because this treatment makes orthodontic adjustments more convenient for patients, beginning your corrective work can be easier than you anticipate! At our Londonderry, NH dentist's office, we are ready to meet with you and discuss how clear aligners can help you resolve problems with malocclusion. In addition to making your smile more attractive, this work can have benefits for your bite and dental health! We provide treatments that use custom aligners designed with detailed measurements taken from an iTero digital scanner. With these highly specific measurements, we can provide a personalized approach to care that ends with you showing off exciting smile improvements!
Is Invisalign Right For You?
For may people with differing degrees of malocclusion, or poor teeth spacing, Invisalign can prove to be an effective means of making changes. At a consultation, we can confirm that this treatment will be able to effectively resolve your issues with teeth that are too far apart, that are crowded, or show other signs of poor placement.
Using Clear Aligners For Orthodontic Treatment
With their clear design, Invisalign aligners can be easy to start wearing on a daily basis. Even those who are concerned about keeping up with appearances for professional or social settings can find that their clear appliances are easy to begin wearing throughout each day. You are encouraged to remove them so that you can still eat and clean your teeth as normal. This further protects your typical daily routine and removes potential difficulties you may expect to encounter when having your smile adjusted.
Orthodontic Work Can Do More Than Just Improve Your Smile
For someone who struggles with TMJ disorder, orthodontic treatment can be beneficial. You can have a hard time with poor jaw joint movement and alignment because your teeth are uneven, and that can lead to mounting stress that causes daily aches and pains. As part of a larger plan to improve your bite function, your dentist may suggest starting treatment to straighten your teeth. Straighter teeth can also make it easier for you to maintain good oral hygiene habits, as portions of teeth will no longer be partially obscured by their neighbors when they overlap.
Discuss Invisalign Treatment At My Dentist In Londonderry, NH
With Invisalign treatment, you can put problems with your smile behind you while avoiding the concerns people often have about starting orthodontic treatment. We offer this service to help people discreetly move their teeth into proper positions, which can help with their appearance and oral health. Of course, this is just one of many procedures that we can offer to give you exciting smile improvements! To find out more about the different services we offer, contact our Londonderry, NH dental office at 603-965-3407.