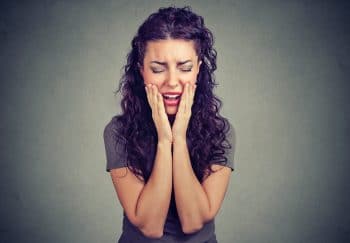 Has it become harder for you to enjoy meals and snacks because of a sensitive tooth, or one that is often sore? Your painful toothache is not something that you should try to ignore, as that discomfort could be a symptom of a serious tooth infection. Infections occur when cavities form and allow bacteria into the tooth, and they can also stem from physical injuries. At our Londonderry, NH dentist's office, patients who are exhibiting symptoms of a tooth infection can be treated with the appropriate restorative dental work. Thanks to single-tooth anesthesia, our practice can make your visit more comfortable during and after treatment.
How Worried Should I Be If I Have An Infected Tooth?
An infected tooth is a serious problem, one that you should not ignore. The bacteria that enter your tooth attack the living nerves housed within, which is why the experience can be a particularly difficult one. Over time, those bacteria will continue to spread, and they can create problems beyond the tooth by passing through the roots. When the damage grows too serious, there may be no way to save the tooth from extraction.
Restoring A Tooth Through Root Canal Treatment
By performing a root canal treatment, your dentist will be able to remove the infected tissues located in the pulp (the tooth's central chamber). Removing all infected tissues stops the progression of the problem, but it does leave the tooth in need of a restoration. A dental crown is placed over the tooth after treatment is finished. With the crown in place, you can count on your tooth to remain safe and secure, and you can feel comfortable biting and chewing without further discomfort!
Single-Tooth Anesthesia Can Improve Your Treatment Experience
It is important to take symptoms of a tooth infection seriously, and to reach out to your dentist to arrange care as soon as possible. When you visit our practice for treatment, you can be happy to have access to single-tooth anesthesia. This form of anesthesia helps patients remain comfortable in the dentist's chair as well as out of it. While you can count on it to keep you free of pain or sensitivity while work is done, the targeted numbing effect ensures you are not going to deal with the awkward lack of sensitivity in your mouth during the rest of your day.
Discuss A Painful Toothache With Your Londonderry, NH Dentist's Office
At our Londonderry, NH dentist's office, patients who are showing signs of tooth infections can undergo treatment to save their tooth and stop the spread of bacteria. This work can save a vulnerable tooth, and it can put a stop to ongoing pain and sensitivity. To find out more, please call My Dentist in Londonderry at 603-965-3407.