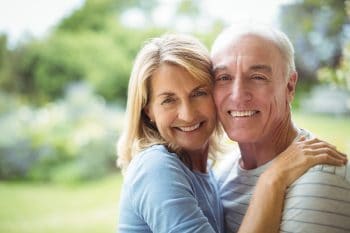 By restoring your smile with a dental bridge, we can take care of your tooth loss without requiring you to go through oral surgery. How is this possible? When a dental bridge is placed, a pair of dental crowns on each side are affixed to the teeth surrounding a gap. Between those crowns is a pontic, or replacement tooth – in some cases, this restoration can include multiple pontics to help with more advanced tooth loss. At our Londonderry, NH dental office, we can help you deal with tooth loss by providing you with a durable custom bridge. We can also talk to you about other options for prosthetic dental work.
A Custom Dental Bridge Can Provide Functional And Cosmetic Support
A custom dental bridge is able to do more than just help you feel more comfortable with your appearance when you smile. Its lifelike appearance can provide cosmetic benefits, but there is more to the appliance than just this. Because it remains stable when placed, it can help you bite and chew food with more comfort. Better dental function can help you avoid overusing certain teeth, and making them more susceptible to wear and tear. It can also reduce stress on your jaw joints, so you are less likely to develop TMJ dysfunction in time.
What Keeps A Dental Bridge In Place?
Dental bridges are designed with a pair of dental crowns on each side. In order to place your prosthetic appliance, these crowns are put on teeth that surround a gap. Their placement keeps your entire restoration secure, so you will not have to worry about it feeling loose or insecure.
We Are Ready To Help You Enjoy A Long-Term Solution For Tooth Loss
If you are bothered by tooth loss, we have different treatment options that can help you regain a full, supportive smile. With dental implants, we can restore a permanent prosthetic without modifying healthy teeth. The implant is secured through placement in your jawbone. After an appropriate healing period, a lifelike appliance is set on it to give you back your full smile, as well as your ability to bite and chew. Multiple implants can help with larger restorations – in fact, it is actually possible to secure a denture with these posts.
My Dentist In Londonderry, NH Can Restore Your Smile With A Custom Bridge
At our Londonderry, NH dentist's office, patients who are ready to do something about tooth loss can come to us for support. You can receive a custom dental bridge that gives you back your complete smile without the need for oral surgery. This is one of several prosthetic solutions that can improve your smile while also helping you enjoy better biting and chewing support. To learn more, contact My Dentist in Londonderry, NH at 603-965-3407.