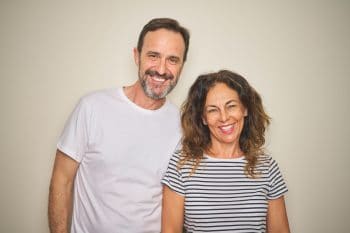 What role can dental implants play in helping a person restore their full smile? Why do patients elect to have them put in place in order to hold a restoration? At our Londonderry, NH dental practice, we have helped many patients bring back their full smile, and also improve their dental function, with implant-held restorations! With an implant put in place, it is possible to keep a prosthetic secured permanently to your jawbone. This imitates the kind of support that natural teeth receive from their roots, and it allows for a comfortable experience while biting, chewing, and speaking. Implants also help you by keeping your jawbone from deteriorating, which is something that affects people who have suffered tooth loss.
Dental Implants Offer A Better Experience With A Prosthetic
Dental implants allow a person to keep a prosthetic in place permanently. Dental bridges also make this possible, but in order to secure a bridge your dentist has to place dental crowns on potentially healthy teeth. There is no need to modify healthy teeth when you have an implant-held restoration put in place. Instead, the implant post will be set directly in your jawbone to keep a prosthetic in its appropriate spot.
What Does Implant Placement Involve?
While some practices send patients away to have implants placed, we can provide every step of your dental implant placement and restoration at our office! The placement of your implant first requires a careful study of your jawbone. This review gives your dentist the opportunity to locate the precise spot where your post should be set. It also allows them to check and confirm that your jawbone is healthy enough for this placement procedure. When the implant has been inserted into your jawbone, and you have had the appropriate time to heal, you can come back to have it restored!
What Kind Of Restorations Can Dental Implants Support?
Dental implants can effectively hold larger restorations like bridges, partial dentures, and even full dentures! In fact, people often choose to have implants put in position to hold larger restorations, rather than rely on a removable appliance. You can feel more confident in your ability to bite and chew certain foods if your implants are in place to hold something larger, like a denture. You can also count on stimulation from the implants to protect you from a loss of jawbone density.
Talk To My Dentist In Londonderry, NH About Dental Implants
At My Dentist in Londonderry, NH, patients who have suffered tooth loss can benefit from learning about dental implants, and the value they can provide for restoring your full smile. If you have questions about implants, or any other matters concerning prosthetic dental work, you can contact our Londonderry, NH dental office at 603-965-3407.