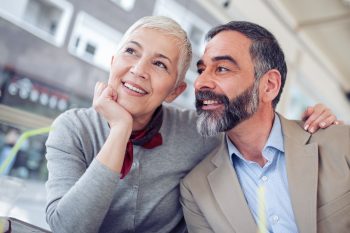 The process of restoring your smile after tooth loss can make a difference in the way you bite and chew, improve your confidence, and even protect your jawbone against deterioration. At our Londonderry, NH dental practice, we can use dental implant-held restorations to make remarkable changes to your oral health and quality of life. One reason our practice stands apart in the field of implant dentistry is that we can take care of every step of your placement and restoration. This can make the process more convenient, while also ensuring that you are consistently working with experts who are familiar with your oral health needs.
The Right Prosthetic Work Can Provide Major Benefits
The prosthetic dental work that you undergo can do more than just close gaps left by absent teeth, and improve your smile. Patients who receive implant-held restorations can find that biting, chewing, and speaking feel more natural and comfortable. This is because dental implants imitate the support that a tooth receives from its roots. Your implants also help stabilize neighboring teeth, and encourage the delivery of nutrients to your jawbone. Without dental implant support, restorations are not able to provide stimulation in your jaw, which can leave you vulnerable to the deterioration of the bone over time.
Discussing The Implant Placement Process
You can have your implant placed and restored at our practice, which ensures that all of the steps in your smile restoration occur at one location! At an initial appointment, we can perform a thorough evaluation to plan your procedure, and make sure you are ready to receive your implant. Dental implants are placed directly into your jawbone, and will take up the space where your roots were previously set. In addition to determining where a single-tooth implant should go, we can also perform an evaluation to plan the placement of multiple implants to hold a larger restoration.
Receiving Implant-Held Dentures
With dentures, patients can regain their complete smile, and improve their bite function. Relying on dentures that are held with suction, or with the use of epoxies, can be frustrating for many people. While they can be relatively stable at first, the loss of jawbone density experienced after tooth loss can affect how comfortable they feel. This approach can also give people less support than they truly desire when they bite and chew food. We can discuss holding your dentures with a sequence of dental implants. With a select number of implants, a full arch restoration can stay stable throughout the day, and deliver a better daily experience for patients! This approach can also protect you against jawbone density loss.
Talk To My Dentist About Implant Placement And Restoration Services
At My Dentist in Londonderry, NH, patients who are ready to do something about tooth loss can count on us to provide dental implant placement and restoration services. Our ability to take care of each step of your procedure can make the process of restoring your smile easier, and lead to great results! To find out more, please call My Dentist today at 603-965-3407.