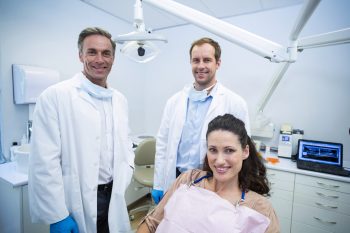 In many cases, a person with an endodontic problem (a problem within their tooth) will be in need of a root canal treatment. Your Londonderry, NH dentist's office can certainly provide this procedure. What you should know is that we are also ready to take on more difficult internal tooth problems. If you need work done on a tooth experiencing problems after a root canal, treatment for internal problems caused by an injury, or root canal surgery, we can arrange the required care. This is in addition to providing a range of other services, including ongoing preventive dental care to help you avoid future troubles.
We Can Offer More Than Just A Standard Root Canal Procedure
A conventional root canal procedure can be needed if a person has an issue with an advanced cavity, or an injury that exposes their pulp to an infection. However, not every person's needs will be met by a standard procedure. If you are experiencing persistent tooth pain, or have other signs of dental trouble that may relate to the health of a tooth, schedule an appointment. After reviewing your case, your dentist can make sure you have the right procedure performed to target your problem. This care includes work like root canal surgery, which is more involved.
Providing An Attractive And Durable Restoration After Your Treatment
In addition to making sure your tooth's health needs are met, your dentist can arrange to have your tooth expertly restored. After your work is concluded, you can discuss the placement of a dental crown. The right crown will be one that protects your tooth, and allows you to bite and chew without difficulty. For teeth that are visible when you smile, your dentist can actually provide a dental crown that offers these benefits, while also matching the look of a natural tooth!
We Can Help You Maintain Your Oral Health After Treatment, Too
Our practice is ready to do more than just address an active problem with your smile. By scheduling routine dental exams with us, you can make sure your smile is being checked regularly for issues that should be addressed. This can lead to a cavity being found, and treated with a dental filling, before decay leads to complications.
My Dentist In Londonderry, NH Can Help You Address Serious Tooth Issues Through Endodontic Care
My Dentist in Londonderry, NH is ready to take on many different oral health issues. If you have a problem that calls for endodontic care, we can make sure you have the treatment you need to fully restore the condition of your tooth! To find out more, schedule a consultation with one of our experts by calling the My Dentist office in Londonderry, NH, today at (603) 965-3407.