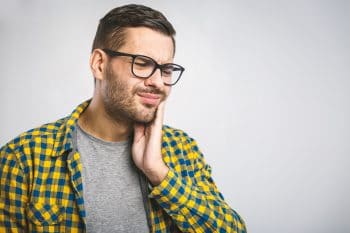 The lingering pain that can occur after injuring your tooth can serve as a warning that deserves your attention. Persistent discomfort, as well as an increased sensitivity, can be symptoms of internal tooth problems. These problems can develop if your tooth is cracked, exposing your pulp to bacteria. With that said, you may develop internal problems even if you do not see signs of visible trauma. Your Londonderry, NH dentist's office is prepared to help you deal with internal problems through endodontic care. In addition to routine root canal procedures, we can offer more specialized internal tooth treatments to protect you from potentially serious issues!
That Toothache Could Be The Symptom Of An Internal Problem
Pain can sometimes continue to affect your tooth after you injure it. If this occurs, you could be feeling the effects of a problem that has affected your pulp – this should be brought to your dentist's attention. If your pulp is damaged, or infected by bacteria, internal treatment is required. If nothing is done, the tooth's condition can worsen to the point that you could lose it! It should be noted that pain without an obvious cause may be a warning that an advanced cavity has formed, which can also require restorative dental work.
Taking Care Of Your Tooth With A Root Canal Treatment
A root canal treatment can be surprisingly comfortable. During the procedure, nitrous oxide can help you relax. You can even recover in less time than you expect, as single-tooth anesthesia can keep your tooth numb while restoring feeling in your mouth.
During a standard root canal procedure, your dentist accesses a tooth's pulp, removes damaged or infected tissues, seals the pulp, and provides a permanent restoration. If your tooth requires a different approach, our practice is ready! You can arrange a root canal retreatment, or even schedule root canal surgery for more complex work.
Restoring Your Tooth After Endodontic Work Has Been Performed
After performing work to restore your tooth's health, your dentist will move on to restoring the condition of your tooth. A modern dental crown can be custom-made for you – this restoration will protect you from further troubles, and it can make biting and chewing comfortable. Because the effects of dental damage and decay are permanent, the crown will be permanently needed.
My Dentist In Londonderry, NH Can Help You Address Pain After A Tooth Injury
My Dentist in Londonderry, NH is ready to help you take care of your painful, sensitive tooth. If you continue to feel discomfort after an injury, or if you are concerned by an increase in discomfort, our practice can put an end to your concerns! If you are ready to learn more, schedule a consultation with one of our experts by reaching the My Dentist office in Londonderry, NH, today at (603) 965-3407.