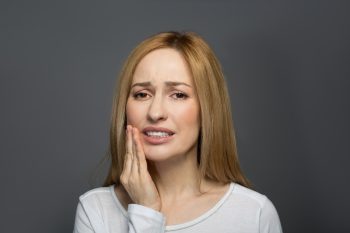 The aches and pains that can potentially affect someone with TMJ dysfunction can prove frustrating. After all, the idea of spending each day with jaw pain, headaches, and difficulty biting, chewing, and speaking can be an unpleasant one to consider. Unfortunately, those who struggle with this problem without seeking help can continue to face all of these problems. Your Londonderry, NH dentist's office can help you enjoy relief with a special oral appliance. This appliance, custom-made to fit comfortably, can relax your jaw joints, and help you feel better throughout your days. Treating the problem can also protect you against complications with nightly teeth grinding, or bruxism, which can result in serious dental harm.
Talk To Your Dentist About Problems That May Be A Result Of TMJ Dysfunction
Are you finding it hard to operate your jaw without pain? Are you dealing with frequent discomfort in your face, jaw, and head? These problems may be traceable to TMJ dysfunction. While the causes of this problem can vary, your dentist is ready to bring you relief. Using a special appliance to relax your jaw joints will make it possible to alleviate your discomfort.
Regular Checkups Give You Important Support To Fight TMJ Dysfunction
If you keep up with regular dental exams, you can enjoy regular updates about your oral health. During every visit, your dentist is carefully checking for any problems that need to be addressed. While these visits certainly help you deal with cavities, they can also lead to the detection and treatment of problems like TMJ dysfunction, which means they can bring relief from recurring pain.
Talk To My Dentist In Londonderry, NH About Addressing TMJ Dysfunction
At My Dentist in Londonderry, NH, you can receive help with your ongoing TMJ dysfunction. By seeking treatment for this issue, you can avoid problems with recurring pain, as well as limited or difficult jaw movement. Your Londonderry, NH dentist is ready to provide help with a range of problems – you can discuss oral health concerns, or find out about the benefits that come with cosmetic smile care. You can schedule an appointment to meet with one of our experts by contacting My Dentist in Londonderry, NH at (603) 965-3407.