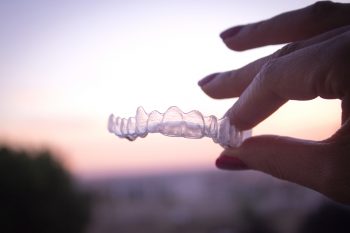 Taking the time to talk with your Londonderry, NH dentist about Invisalign aligners can lead to great smile improvements. This orthodontic treatment relies on a series of clear aligners, rather than traditional braces, to fix problems with teeth that are poorly spaced, crooked, or otherwise flawed. This process can be convenient, thanks to your ability to remove your aligners when they might be intrusive. You can also feel reassured by the way you look when you wear them – thanks to the clear material used for their construction, you can avoid changes to your appearance! By correcting problems with crooked teeth, you can also improve your bite alignment, and address overlaps that are hard to keep clean.
Invisalign Can Help You Show Off Noticeable Smile Improvements
People who seek out Invisalign treatment can be excited by what changes their smile can undergo. Fixing problems with gaps, overlaps, and other smile concerns can give you more confidence in the way you look. These clear aligners make these changes possible, while allowing you to avoid the use of metal braces, which can feel intrusive during your treatment.
What Else Can Your Dentist Do To Help You Improve Your Appearance?
You may be surprised at how close you are to your best smile. There are several cosmetic dental procedures available to you, and the right procedure can fix several concerns. If you want to brighten your smile after your Invisalign procedure, you can discuss a professional whitening treatment. You can also learn about the benefits of porcelain veneers. In addition to covering up damage, shape issues,and discoloration, veneers can sometimes serve as a more immediate way of fixing gaps and overlaps.
Talk To My Dentist In Londonderry, NH About Invisalign Treatment
At My Dentist in Londonderry, NH, patients who want to make lasting smile improvements can be excited to find out about Invisalign's many benefits. You can feel better about your treatment time, as the procedure is discreet, while also looking forward to correcting frustrating gaps and overlaps. Our practice offers a range of cosmetic, preventive, and restorative procedures for individuals in and around Londonderry, NH. To schedule a consultation with one of our experts, please call the My Dentist office in Londonderry, NH, today at (603) 965-3407.