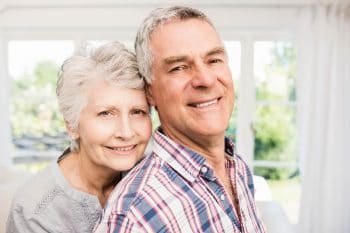 When a patient has experienced the loss of several teeth, they may become worried that their oral health may be permanently compromised. Even with prosthetic dental support to address those gaps, they may feel that they are going to have functional difficulties with biting and chewing. Fortunately, your Londonderry, NH dentist's office is able to provide advanced prosthetic support. For patients with non-sequential smile gaps, partial dentures can provide a complete smile with a single prosthetic. If you are interested in enjoying permanent support for your restorations, you can enjoy this through the use of dental implants. You can actually have your implant placement and restoration arranged at our office, making the process more convenient. 
Finding The Right Prosthetic Solution, And Making Your Smile Complete Again
There are several approaches to prosthetic dental care available through your dentist. You can have partial dentures placed, which are custom-made to address the problem of tooth loss in separate areas of your upper or lower teeth. You can use this to limit the number of prostheses created to give you back your full smile. You can also talk to your dentist about having restorations secured with dental implants. Implants provide you with a means of permanently holding a prosthetic in the proper position.
Why You Should Ask Your Dentist About Dental Implants
If you want to feel confident in your ability to bite and chew food, talk to your dentist about having dental implants put in place to hold your restorations. An implant-supported prosthetic enjoys support that mimics the support natural teeth have from their roots. Implants are also beneficial because they can provide stimulation in your jawbone, which can help you avoid a loss of density.
Talk To My Dentist In Londonderry, NH About Addressing The Loss Of Several Teeth
At My Dentist in Londonderry, NH, you can enjoy a restored smile after undergoing the appropriate prosthetic dental care. Our practice is proud to help patients recover from the significant oral health hindrances caused by tooth loss. You can learn more  by scheduling a consultation with one of our experts. Call the My Dentist office in Londonderry, NH, today at (603) 965-3407.
.