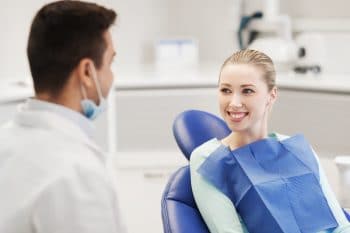 If you need restorative dental work because of tooth decay, or because you have suffered an injury, you can look forward to receiving dental work that offers esthetic and functional support. Your Londonderry, NH dentist's office offers support through lifelike dental crowns, which protect teeth above the gum line. With dental crowns, it becomes possible to save a tooth that would pose a risk for infection, and provide insufficient support for biting and chewing. Because your restoration can be made to match your surrounding teeth, you will not have to worry that you are sacrificing your appearance for the sake of responding to an oral health matter.
When Is It Necessary To Have A Dental Crown Placed?
Dental crowns are used regularly in the treatment of cavities, and in addressing physical harm to teeth. With that said, your dentist can recommend a more conservative treatment, when it is appropriate. A cavity that is caught in time can be addressed with a dental filling, and cosmetic damage can be addressed with cosmetic dental work. Crowns make it possible to address more serious concerns. They completely cover your tooth above the gum line, and bear the responsibility for absorbing the pressures created when you bite and chew food.
What Should I Do If I Have A Problem With An Older Restoration?
If you have an old restoration that feels loose or weak, or appears to be in poor condition, talk to your dentist about a replacement. A properly made crown can continue to provide protection that lasts for many years. That longevity can be affected by poor care – the kind of habits that lead to dental trouble can also lead to trouble with a restoration. Your dentist can check on the condition of an older crown during a routine dental exam.
Talk To My Dentist In Londonderry, NH About Receiving A Dental Crown
If you have a problem with a tooth, My Dentist in Londonderry, NH can treat the matter by providing you with quality restorative dental care. A modern dental crown can help you by providing you with oral health support, in addition to making a flawed tooth look better. To learn more, schedule a consultation with one of our experts by calling the My Dentist office in Londonderry, NH, today at (603) 965-3407.
.