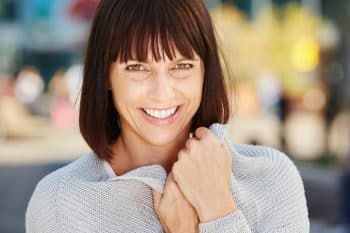 Having a dental prosthetic you can depend on to help you with tasks like biting and chewing means having a prosthetic that is securely held. By receiving dental implants to hold your prosthetic, you can ensure you have the security you need to enjoy real functional advantages with your restoration. Implants are made from biocompatible titanium – as your jaw heals from the procedure, the bone will fuse with the implant. This provides a strong hold. The stimulation in your implant created when you bite, chew, and speak secures proper blood flow to your jaw. This prevents deterioration of the bone, which can is a common issue for people with tooth loss.
Undergoing A Dental Implant Placement
Because your dentist's office can take care of the entire dental implant placement process, you can avoid traveling to different specialists for care. The first part of the process will always be an initial consultation and review – your dentist needs to make sure you have no issues that will have to be resolved before the placement. If you are approved, you can move forward with having your implant (or implants) affixed surgically to your jawbone. After proper healing has taken placed, your custom prosthetic can be locked in position.
Why Prosthetic Dentistry Is Important To Your Oral Health
A dental prosthetic supported by an implant will prevent shifting of teeth that can take place after tooth loss. This will also limit the risk that you will lose more teeth, or suffer other complications. A prosthetic makes it easier to chew, bite, and speak naturally, which will help you avoid problems like TMJ dysfunction. Of course, it is worth acknowledging how a prosthetic can restore your appearance.
Talk To My Dentist In Londonderry, NH About Dental Implants
Are you ready to reverse the frustrating effects of tooth loss? At My Dentist in Londonderry, NH, you can restore your smile by having dental implants placed to hold your prosthetic. This will offer significant cosmetic and functional benefits. If you would like to learn more, schedule a consultation with one of our experts by calling the My Dentist office in Londonderry, NH, today at (603) 965-3407. You can find our patient forms on our website.