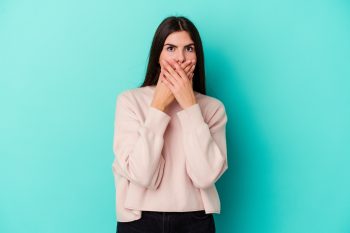 If you have grown uncomfortable with your appearance when you smile, or even when you speak, because of teeth stains, you can benefit from asking your dentist about cosmetic dentistry. Teeth whitening treatment provided at a dentist's office can do more to help your smile than you might realize. If you are someone who has already tried over the counter whitening agents, you may worry that you can only make limited changes to the color of your smile. When you look into professional teeth whitening treatment at our Londonderry, NH dentist's office, you can find that more dramatic improvements are easier to enjoy than you thought!
Teeth Stains Can Make Teeth Appear Dull, Unhealthy, And Unattractive
Teeth stains can be a difficult problem to completely avoid. While your oral hygiene routine can (hopefully) keep you safe against tooth decay and gum disease, it may come up short when it comes to fully preventing the accumulation of enamel stains. Over time, those stains can gradually form and worsen, leading to more discomfort with your appearance. While there are products readily available on store shelves to fight these stains, they can offer limited benefits beyond removing surface stains. To fight more significant issues with discoloration, talk with your dentist.
Asking Your Dentist For Help With Dental Discoloration
When you talk to your dentist, you can learn that more than one treatment option is available to those who want to enjoy the results of professional whitening treatment. An in-office whitening treatment is something that we can complete in just a single appointment. At that appointment, we rely on special lights to safely activate the whitening agents applied to your teeth. As an alternative to this approach, we also provide patients with take-home whitening kits. A whitening kit that you take home can still give you professional results, but it can do so while conforming to your schedule.
Why You Might Want To Use Veneers To Restore Your Smile
Is a professional teeth whitening treatment always the right cosmetic dental procedure for someone who wants to address discoloration? While whitening agents are an effective resource for fighting stains, they can provide less help when you want to address internal issues that can change your teeth color. Fortunately, we can still address these internal issues. By placing porcelain veneers on the fronts of your teeth, we can resolve problems with discoloration as well as trouble with the shape, size, and general condition of teeth.
Talk To Your Londonderry, NH Dentist About Teeth Whitening Treatment!
At My Dentist in Londonderry, NH, patients who are bothered by dental discoloration can learn about the benefits of a professional teeth whitening treatment. We can make time with you to discuss the advantages of an in-office treatment or a take-home kit, and we can also discuss the improvements that porcelain veneers make possible. To learn more, contact our Londonderry, NH dental office at 603-965-3407.