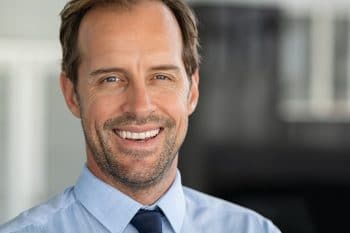 A person can be reluctant to show off a smile that looks discolored, has visible problems with damage, or generally looks old and unhealthy. If you have problems with the way your teeth look, you should know that you are not stuck with a smile that makes you self-conscious. Cosmetic dentistry can lead to positive changes that you might assume are out of reach. With the right procedure, your Londonderry, NH dentist can address many different problems. Our practice even has treatment options available for those who are worried less about their teeth but more concerned about wrinkles forming around their mouth.
See Notable Improvements From A Professional Teeth Whitening Treatment
People sometimes give up hope when it comes to making their smile brighter, as their efforts to address stains with store bought whitening agents or whitening toothpastes have led to limited benefits. For those who have deep stains, and those who have long struggled with discoloration, we can discuss a professional whitening treatment. Your dentist has access to bleaching agents that are stronger than those you can find at your local pharmacy or store, which means they can remove stains that you have struggled to address in the past. You can choose if you would like to have your dentist perform a single in-office treatment, or if you would rather take care of your treatment at home!
Porcelain Veneers Help You Make Significant Changes To Your Smile
There are several problems that can make a person feel less confident in their smile. They may be bothered by problems with wear and tear that has accumulated over time, particularly if they grind their teeth. Naturally occurring flaws may affect the shape and size of certain teeth, which can make your smile seem awkward and uneven. Porcelain veneers are actually able to help with issues with the shape, size, alignment, and even color of your teeth. Through one procedure, you can take on many different problems, which means a significant cosmetic improvement is easier to obtain than you realize!
We Can Also Improve Your Smile With Botox And Dermal Fillers
As important as your teeth are to your smile, you also need to care for the skin around your mouth to maintain a confident, youthful appearance. Through the use of Botox and dermal fillers, we can help patients fight the formation of wrinkles, or address lines that have already formed. During a consultation, we can talk to you about how a particular treatment might help you, as well as discuss the potential benefits of combining these services with additional cosmetic dental work.
My Dentist In Londonderry, NH Can Help You Show Off A More Confident And Attractive Smile!
A confident smile can have many social benefits. If you are not currently happy with the way you look, a consultation to discuss cosmetic dentistry can be beneficial. To find out more about our different treatment options, contact our Londonderry, NH dental office at 603-965-3407.