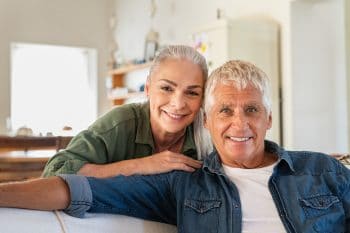 It is hard to overstate how much good a fully restored smile can do for a person. This is true in a situation where someone has lost a single tooth, but the loss of several teeth can create even more concerns, and make proper prosthetic dental care even more important. At our Londonderry, NH dental practice, we offer different approaches to addressing tooth loss that can give a person back their confidence, and improve their dental function. If you have several gaps in your smile because of missing teeth, we can help you by creating and placing a custom partial denture. This appliance makes it possible to address a more complicated situation with missing teeth through the placement of just one restoration, so you have your full smile back in less time!
How Does A Partial Denture Differ From A Full Denture?
People who are familiar with dentures tend to imagine them as a solution for the complete loss of upper or lower teeth. While we do offer full dentures to patients who need them, partial dentures allow us to restore someone's full smile while leaving their remaining healthy teeth intact. This prosthetic appliance is supported with hidden clasps that help keep it in place, so you can feel comfortable with the restoration once it has been set.
Planning Your Smile Restoration
During restorative dental work that involves prosthetic treatment, our practice can work with you to make sure you are completely happy with your results. We can plan the placement of a custom restoration, which will give you the ability to close all gaps in your smile resulting from tooth loss. We can also check on the condition of your remaining teeth, to see if they might require treatment as well.
We Can Help You Regain Your Full, Confident Smile!
Our goal is to make sure our patients finish prosthetic care with confidence in their appearance, while also helping them improve their dental function. Having missing teeth restored can make it easier for you to bite and chew, which can reduce problems with TMJ dysfunction, and limit wear and tear on remaining teeth. After your work is complete, we can check on the status of your restoration, and your overall oral health, during routine dental exams.
Receiving A Partial Denture At My Dentist In Londonderry, NH
At My Dentist in Londonderry, NH, we offer partial dentures to help patients who have lost multiple teeth! These restorations make the process of addressing several smile gaps easier, so you can start showing off your full smile again sooner. If you have questions about these restorations, or if you have any other concerns about prosthetic dental care that we can address, please call My Dentist today at 603-965-3407.