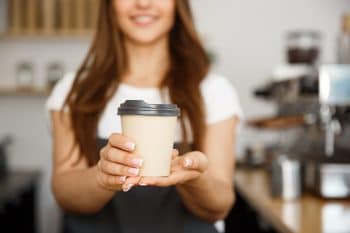 You can find coffee shops in countless shopping centers, and you may find yourself regularly drinking this beverage with breakfast, or at the office, to help you stay alert. As coffee becomes increasingly present in everyday life, it is important to think about its potential impact on your oral health. As you might have guessed from its dark color, black coffee is certainly capable of leaving stains in your teeth. If you enjoy flavored drinks, you may not realize just how much sugar you are exposing your smile to on an ongoing basis. This can increase your risk for tooth decay, and could send you to our Londonderry, NH dental office for restorative dental treatment!
Flavored Coffee Drinks Can Expose Your Smile To More Sugar Than You Realize
Coffee shops often provide menu options that are rich in flavor…and sugar. If your beverage of choice is high in sugar, your coffee habit can make cavities a real concern. Cutting back on sugar overall helps you prevent troubles with tooth decay. It should be noted that black coffee, while lacking sugar, can still create oral health concerns because the drink is acidic, and can weaken your enamel.
Recognizing The Link Between Coffee And Teeth Stains
Dark liquids like coffee, tea, and other beverages are capable of causing teeth stains that make you grow self-conscious about the way you look. If you have tried to deal with the problem already with a whitening toothpaste, or store bought whitening agents, you may have come away from your efforts feeling disappointed. Our professional whitening treatments help patients who are trying to remove stubborn stains, and they can help you regain your bright smile!
Making Improvements To Your Daily Habits Can Better Protect Your Oral Health
Reducing your coffee intake can have a positive effect on your oral health, but it may be just one of several changes you should consider making. If you are not already, make sure you attend dental exams on a regular basis. These visits provide you with professional teeth cleanings, and reviews that allow your dentist to identify problems. You should also make sure you are doing your part to protect your smile by brushing and flossing thoroughly every day – infrequent or ineffective brushing can make you more vulnerable to future oral health concerns.
Talk To My Dentist In Londonderry, NH About Keeping Your Smile In Great Shape
At My Dentist in Londonderry, NH, patients who want to keep their teeth in the best possible shape can look forward to quality care at every routine appointment! In addition to providing cleanings and evaluations, our practice can make recommendations you can fit into your daily life to better protect yourself against dental concerns. For more information, call our Londonderry dental practice at 603-965-3407.