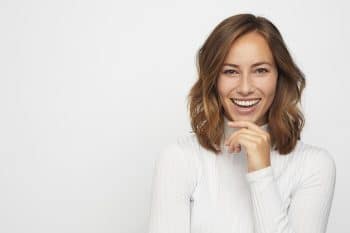 Any visible problem with your smile alignment can make you self-conscious. A gap between teeth can be a particularly hard to miss example of an alignment flaw, and one that you can be particularly eager to address. Your Londonderry, NH dentist's office offers treatment via Invisalign aligners. By choosing Invisalign over traditional braces, you can have your orthodontic work done without drawing undesired attention to your smile because of a conspicuous dental appliance. Your dentist can also talk to you about an alternative approach to treatment. It may be possible to hide or close a gap with cosmetic dental work.
Will A Smile Gap Need To Be Closed With Orthodontic Work?
Many people who have a gap between teeth are dealing with the effects of poor dental alignment, and can have orthodontic work recommended to them. With that being said, the situation may be related to tooth size – if one tooth is particularly small, a gap may be observed between it and one of its neighbors. Even if the problem is related to your dental alignment, it is sometimes possible to fix a minor issue with cosmetic work, instead of orthodontic care.
Using Invisalign Aligners To Straighten Your Misaligned Teeth
To make sure your Invisalign aligners are the right design for your needs, we base their creation on digital measurements of your teeth. These measurements are taken with our 3d digital scanner, which can produce remarkably precise information. Once your have your aligners, you will move from one to the next at appropriate intervals, with each Invisalign aligner bringing you closer to your best smile. You can feel good about how you look even as your appliances are in place, as they are remarkably difficult to observe. You can also be happy to know that they can be removed when they might be in your way.
Expertly Hiding A Gap Through Cosmetic Dental Work
Gaps and overlaps often call for orthodontic work, but there are times when cosmetic work can be useful instead. With custom-made porcelain veneers, it may be possible to hide these flaws. Because your veneers can be ready in as little as two appointments, you can start showing off a better smile after a considerably shorter period of time!
My Dentist In Londonderry, NH Can Close Unattractive Smile Gaps
My Dentist in Londonderry, NH can help you close unattractive smile gaps! Our practice can talk to you about using Invisalign aligners to make your smile look its best. We can also discuss alternative treatments – in some cases, it is possible to have this work done through a cosmetic procedure. If you want to know more, or if you have any other questions about your oral health, you can reach My Dentist in Londonderry by calling 603-965-3407.