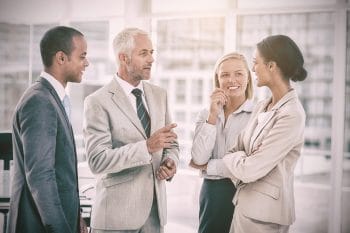 People begin orthodontic treatment at different ages, but an adjustment often takes place when a person is in their tween and teen years. Because braces are so connected with younger people, they can be associated with youthfulness. Unfortunately, this can make people hesitant to explore their orthodontic treatment options as adults, particularly when they work in a more professional setting. You can be happy to know that your Londonderry, NH dentist's office provides clear aligners to individuals interested in straightening their teeth. By using Invisalign aligners to correct your alignment flaws, you can make impressive changes without an awkward period wearing metal braces!
Invisalign Aligners Can Make Orthodontic Work More Convenient
Instead of having metal braces permanently affixed to the front of your teeth, you can start correcting problems with teeth that are poorly spaced with a sequence of clear aligners. These appliances are hard to see when worn, which can ensure that your results, and not your braces, alert people to your orthodontic work. The convenience comes from more than just your discreet appliances – these aligners are also easy for you to remove. You can easily remove Invisalign aligners from your teeth before brushing and flossing, or just before you eat.
Planning Your Treatment With Invisalign Aligners
Our practice relies on digital imaging technology to create detailed measurements of your smile. With the information gathered via our iTero digital scanner, custom aligners can be created. This approach can be more comfortable for patients, as there is no longer a requirement where you have to bite into a plaster material to create a physical mold of your teeth.
Straightening Your Teeth Can Do More For You Than Just Change Your Smile
Your straightened smile can give you a significant confidence boost. Because of this, it is easy to think of Invisalign as purely a means of providing cosmetic dental improvements. What you should be aware of is the way that your adjustment also helps you improve your bite function. Correcting poor dental alignment can reduce how much pressure you put on your jaw joints over time, which can lower your risk for TMJ dysfunction. You can also have an easier time avoiding problems with tooth decay by fixing overlaps that allow bacteria to gather.
My Dentist In Londonderry, NH Can Provide Quality Smile Care With Invisalign
At My Dentist in Londonderry, NH, you can start improving your smile, and your oral health, with Invisalign treatment! Our practice can talk to you about the benefits of using this modern form of orthodontic care, in addition to providing a range of other valuable services. If you are interested in learning more about Invisalign, or if you have questions about any other procedure that we provide, To schedule a consultation with one of the experts at our office, call My Dentist in Londonderry, NH, today at (603) 965-3407.