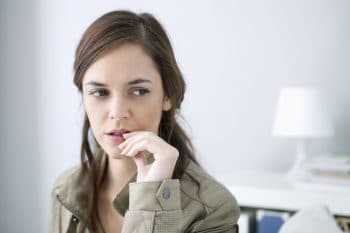 You may be self-conscious about the way your smile looks because you have teeth that are poorly aligned. This discomfort with your appearance may be enough to motivate you to look into orthodontic work. However, if you are not ready to take action just due to cosmetic concerns, you should be aware that there are additional benefits to fixing your smile. By spacing teeth that currently overlap, you can actually reduce your cavity risk by correcting a problem that can make bacteria harder to remove from your teeth when you clean them. Your Londonderry, NH dentist's office can meet with you to discuss orthodontic treatment with Invisalign, which can lead to positive changes without a conspicuous orthodontic appliance.
Crooked Teeth Can Be An Issue For Your Oral Health
Your crooked teeth may be harder to effectively clean because overlaps make spaces harder to fully address when you brush. A space that is too cramped for your brush bristles to reach can still welcome oral bacteria. As those bacteria accumulate and form plaque – and later, tartar – your enamel can be under an increased cavity threat. While regular dental exams can help you manage your risks for tooth decay, this situation can still make it more difficult for you to effectively manage your oral health.
Using Invisalign Aligners To Straighten Overlaps Between Teeth
Your dentist can provide you with a modern orthodontic treatment experience. Our practice offers Invisalign aligners as an alternative to metal braces, so that you can feel more comfortable with the way you look during treatment. In addition to being discreet, these aligners are also more convenient, as they can be removed by you whenever they might be in your way. Your treatment experience can be more pleasant from the start, as your aligners can be created based on impressions created by our iTero digital scanner, meaning there is no need to create a physical bite impression with a plaster mold.
Further Steps You Should Take To Lower Your Cavity Risk
Straightening your teeth can help you avoid future problems that call for restorative dental work. While this is a positive step to take, it may be one of several that you should consider. Are you currently attending routine checkups? If not, you are missing out on care in the form of expert dental cleanings, and close evaluations of your teeth and gums.
My Dentist In Londonderry, NH Can Offer Invisalign To Correct Your Alignment Issues
My Dentist in Londonderry, NH is ready to help patients show off straighter, more attractive smiles. Our practice can discuss the benefits of Invisalign treatment with you, so that you can enjoy a more discreet approach to orthodontic work. In addition to helping you show off a better smile, this can help you reduce cavity risks caused by teeth that overlap each other due to poor alignment. To schedule a consultation with one of the experts at our office, call My Dentist in Londonderry, NH, today at (603) 965-3407.