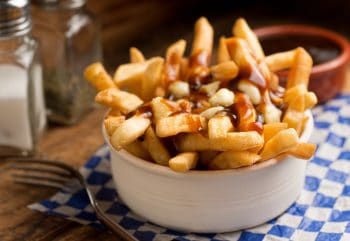 While poutine may not be the healthiest meal choice, many people are familiar with how delicious it can be. On Saturday, June 23, you can enjoy a day dedicated to the tasty dish at the Poutine Fest! Visitors to this event will have a chance to sample different poutine recipes from many different area restaurants, and help pick "The Best Poutine Of The Fest," an award for the top poutine recipe. In addition to helping celebrate this popular French-Canadian food item, attendees will be able to stick around after the close of the festival to catch a New Hampshire Fisher Cats baseball game! The event will be held, even in the case of inclement weather. 
When:
Manchester's Poutine Fest is scheduled for Saturday, June 23. The festival is scheduled to begin at 2 pm, and at the close, attendees can catch the evening's NH Fisher Cats game!
Where:
The event is being held at 1 Line Drive, Manchester, NH.
Cost:
The cost for a ticket to Poutine Fest will range from $30 to $40. Purchasing a ticket will give you access to see the NH Fisher Cats game.
Activities Include:
During Poutine Fest, restaurants all around the area will do their best to win "The Best Poutine Of The Fest" award, which comes with a special championship belt!
For More Information:
For more information about this event, click here.
Schedule Your Next Dental Appointment At My Dentist In Londonderry, NH!
Patients can rely on excellent oral health support every time they come in for a dental appointment at My Dentist in Londonderry, NH! We are proud to offer routine preventive care, along with a comprehensive range of services to address cosmetic and oral health concerns. To schedule a consultation with one of our experts, contact the My Dentist office in Londonderry, NH, today at (603) 965-3407.