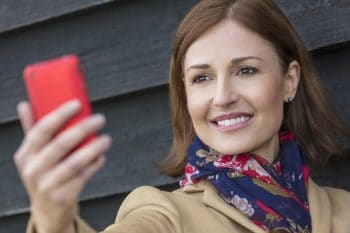 If you want to make big improvements to your smile, but feel unsure of how those positive changes can be made, you may be excited by how veneers can help you. Your dentist can have custom porcelain veneers crafted for your smile, which will be able to cover any flaws currently affecting your teeth. Many patients who want to learn more about cosmetic dental work can find themselves excited for how veneers can help them. With this one treatment, you can cover up problems with discoloration, as well as issues affecting the condition of your teeth. In some cases, patients have been able to correct alignment problems with veneers, instead of having to undergo orthodontic treatment.
Scheduling A Time To Talk To Your Dentist About Porcelain Veneers
The first step to take if you want to receive veneers is simply to take time to discuss your interest with your dentist. This is helpful for several reasons. You can learn more about what to expect from the placement, and you can learn more about the specific changes made by their presence. This also gives your dentist a chance to confirm that you can be approved for this procedure. While people are often able to qualify, there may be oral health problems that demand attention before cosmetic work can be undertaken.
Making Sure Your Smile Stays In Great Condition After Cosmetic Care
If you choose to undergo any cosmetic dental work, you presumably want your results to last as long as possible. One benefit to having veneers placed is that they are remarkably durable. They can resist damage, and they can avoid letting stains accumulate. However, this does not mean you have no responsibility to practice smart preventive care. Avoid items that pose a risk for stains, as your veneers can lose their color over time, and are not treatable with professional whitening agents. You should also take care to avoid physically damaging them.
Talk To My Dentist In Londonderry, NH About Receiving Porcelain Veneers
At My Dentist in Londonderry, NH, patients who want to make an improvement to their smile can make amazing changes with porcelain veneers. If you are interested in this procedure, or any other kind of cosmetic work, schedule a consultation with one of our experts by calling the My Dentist office in Londonderry, NH, today at (603) 965-3407.