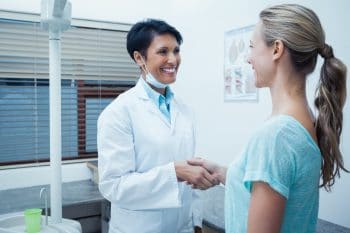 If you have teeth that are unevenly spaced, or if you have an undersized tooth, a gap may be present in your smile. This can be a frustrating cosmetic problem, but your dentist can help you find the best solution. While gaps are often seen as the result of alignment issues that demand orthodontic work, you may be able to have the problem resolved through cosmetic dental work. After evaluating your needs, your dentist can determine the best approach for you. If orthodontic care is recommended, you can discuss treatment with Invisalign. With Invisalign aligners, you can close a gap between teeth without wearing distracting metal braces.
Will A Gap In Your Teeth Require Orthodontic Work?
A gap between teeth may be fixable through cosmetic dental work. Your dentist can determine, based on your smile, whether this is possible. Cosmetic improvement through the placement of porcelain veneers can add to a tooth's size, and effectively cover a gap. If you qualify for this approach, your changes can be made after just two appointments!
Using Invisalign As An Alternative To Traditional Braces
Thanks to Invisalign, it is possible to make corrections to your dental alignment without having your smile impacted by metal braces. Instead, you will receive a sequence of clear aligners that gradually change the positions of your teeth. This can lead to a major improvement to how you look. In addition to closing a gap, your treatment can lead to other positive adjustments that add to the quality of your appearance. Invisalign is popular for offering discreet orthodontic treatment, but patients also enjoy the ability to remove their appliance when they need to eat, or clean their teeth.
Talk To My Dentist In Londonderry, NH About Addressing A Gap Between Teeth
At My Dentist in Londonderry, NH, you can learn how to address frustrating cosmetic issues with your smile. You can be pleasantly surprised to find that your dentist is able to cover up many different concerns, including concerns with a gap in your smile. If you would like to learn more, schedule a consultation with one of our experts by calling the My Dentist office in Londonderry, NH, today at (603) 965-3407.