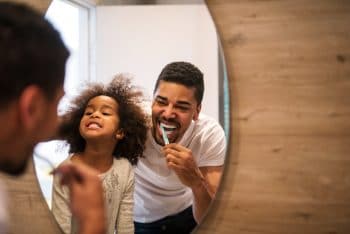 At-home care is crucial to good oral health, but patients of all ages should enjoy regular dental visits, too. Young patients can be more prone to dental troubles than their parents, because they have less practice with proper brushing and flossing, and tend to enjoy more sugar on a daily basis. When you bring your child to the dentist at an early age, they can receive helpful instructions on oral care, along with routine preventive services. They can also enjoy additional support in the form of fluoride treatments, and the application of dental sealants.
Dental Visits Protect Young Smiles, And Educate Young Patients
Educating your child on proper dental care can have a big impact on their oral health over time. During routine exams, your dentist can guide your child on how to brush and floss carefully, so that they do a better job caring for their smiles between appointments. Of course, they will still receive the important benefits you enjoy during your routine checkups, with a careful check for cavities, and a detailed cleaning of their teeth. If a cavity has formed, identifying the problem and treating it promptly can make for a better restorative dental treatment experience.
Regular Dental Care At A Young Age Can Reduce The Risk Your Child Will Suffer From Dental Anxiety
Dental anxiety can create an unnecessary hurdle to quality oral health care. Your dentist recognizes the need to create a welcoming environment, particularly for kids who come in for care. These early dental visits can help kids feel better about future appointments, and can make it less likely they will suffer from anxiety when they are older.
Patients Of All Ages Can Benefit From Regular Dental Care At My Dentist In Londonderry, NH
Regular dental care is important to patients of all ages. At My Dentist in Londonderry, NH, our team is committed to making sure young patients feel welcome, and enjoy fantastic oral health services. To learn more about the importance of pediatric dental care, schedule a consultation with one of our experts by calling the My Dentist office in Londonderry, NH, today at (603) 965-3407.