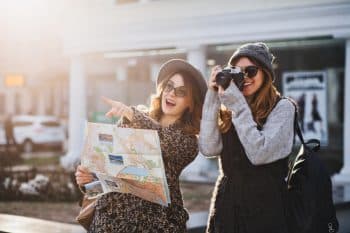 You may be away from home, but your need for quality oral care is with you no matter where you go. Travel can be disruptive to our routines. This can be something to look forward to – after all, part of the fun of going on vacation is escaping our usual responsibilities. However, you may find it more difficult to take proper care of your smile while you are on the move. For instance, your consumption of sugary foods and drinks may spike as you spend time on a long drive, or in a hotel where you have no way to cook for yourself. You could also find that your out of town activities are demanding you adjust your usual morning and evening routines. If you maintain good oral health habits, even while you travel, you can improve your chances of receiving a clean bill of health during your next dental exam.
Stay Mindful About Sugar In Your Diet, Even When You Travel
Maybe you find yourself gravitating towards sweeter snacks while on a road trip. Being in a new city may encourage you to indulge in a few more desserts. There are several reasons your sugar intake may increase while you travel. What you should remember is that no matter where you are, you can face a risk for problems that demand restorative dental care when you consume too much sugar.
Tips For Keeping Your Oral Care Consistent During Your Vacation
Staying as consistent as possible with your routine upon waking up, and before bed, will make it easier to keep up with your brushing and flossing habits. This may seem obvious, but a relaxation of your habits can put you at real risk for having tartar develop, hardened plaque that must be removed by your hygienist.
Count On Excellent Oral Care From My Dentist In Londonderry, NH
At My Dentist in Londonderry, NH, you can enjoy great oral care when you come in for routine evaluations. To schedule a consultation with one of our professionals, you can call My Dentist in Londonderry, NH, today at (603) 965-3407. Our patient forms are available online.