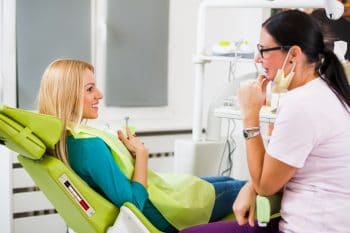 How confident are you that your smile is totally healthy, and free of any threats from tooth decay or gum disease? If you attend regular dental exams, you can receive important feedback from your Londonderry, NH dentist about the state of your teeth and gums. However, if you simply rely on the lack of obvious symptoms to inform you of your smile health, you could overlook a problem until it grows more complicated. In addition to the preventive care from each professional teeth cleaning, your dental exams serve as a means of identifying problems that have started to form. This can be important, particularly if you want to avoid more involved work, like a root canal procedure, a treatment that  is required when you have an advanced cavity.
How Confident Should You Be In The Health Of Your Smile?
You may not feel obvious discomfort due to gum disease, but you can look for other symptoms if you exam your smile. Red, swollen tissues can alert you to a possible infection. If your gums bleed more frequently when you brush and floss, you can also take this as a sign that something might be wrong. When it comes to tooth decay, you may not realize a cavity has formed, and needs treatment, until you start feeling pain. Unfortunately, the hard-to-miss symptoms can indicate a more advanced cavity, meaning your necessary care will be more involved.
These Measures Can Help You Protect Your Teeth Between Appointments
So you know to take care of your teeth by seeing your dentist regularly. What should you be doing in between appointments? Smart smile care depends on your daily brushing and flossing efforts – take the time to be thorough every time you brush and floss, and make sure you reach every area of your teeth. Your diet should be richer in nutrients, and lower in sugar, if you want to protect yourself against cavities.
My Dentist In Londonderry, NH Can Help you Stay In Good Smile Health
At My Dentist in Londonderry, NH, you can look forward to effective smile care when you enjoy a routine dental exam. Our practice is proud to offer dedicated preventive treatments to families in and around the Londonderry area, and we are excited to help you protect your teeth! To make your appointment, schedule a consultation by calling the My Dentist office in Londonderry, NH, today at (603) 965-3407.