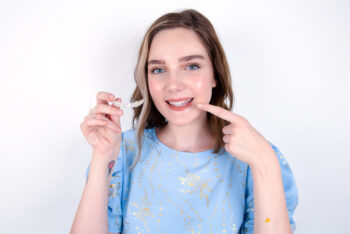 How easy will it be for you to "adjust" to an orthodontic adjustment? If you have the right kind of aligner, you can find that treatment is surprisingly easy to fit into your daily life! Our Londonderry, NH dentist's office can offer that kind of convenient care, as we provide work with Invisalign aligners. These clear, removable appliances let you gradually guide teeth over time without the need to wear conspicuous, fixed metal braces. In addition to providing cosmetic changes, this is a treatment that can help improve your bite alignment and oral health!
What Should I Expect From Invisalign Aligners?
If you choose to take care of awkward smile spacing with Invisalign instead of metal braces, what can you expect from your treatment? For many people who have smiles affected by malocclusion, treatment with Invisalign can take on all concerns about poor spacing. What these appliances offer in addition to corrective work is the ability to enjoy it discreetly, which means your smile maintains its natural look. You can also enjoy having an aligner that is removable, which means you can take it out whenever it is in your way.
Beginning Your Corrective Work
Your corrective work will begin after your Invisalign aligners are prepared for you. To produce the results that you need, your appliances will be custom-made. All of them will offer a secure fit and a discreet appearance thanks to their clear design. Each one in your set will be worn for a recommended length of time. Make sure your aligners stay in place throughout each day to stay on track with the expected time for your overall adjustment. While you should generally have them in place, you are free to remove them in order to clean your teeth and eat.
What To Look Forward To After Your Adjustment Is Over
It can be reassuring to know that Invisalign makes treatment easier to begin. However, you may be less than certain of what you should expect when care is completed. This work helps take on gaps, overlaps, and other spacing flaws that affect how you look when you smile. It can also improve your bite function, and it can have a positive effect on your oral hygiene routine.
Talk To Your Londonderry, NH Dentist About Invisalign
By talking to My Dentist in Londonderry, NH about Invisalign, you can learn about an orthodontic treatment that is surprisingly easy to fit into your daily life! With the appliances you receive, you can steadily correct issues with gaps and overlaps so that they are not a problem for your smile any longer. For more information about this or any other service that we provide, please reach out to our Londonderry, NH dental office at 603-965-3407.