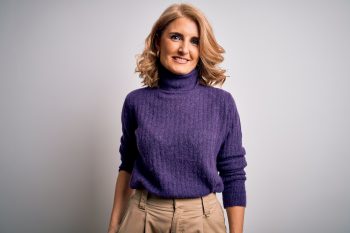 When a person is given a denture to replace a row of teeth, they can find that the appliance is carefully designed to fit comfortably. While the appliance is removable, it can remain in place with relative ease thanks to natural suction, or through the use of epoxies. Unfortunately, that secure fit may not be permanent. Why would someone stop feeling confident in their ability to keep their dentures in position? This issue can arise not because your dentures have changed, but because jawbone deterioration has taken effect. After losing teeth, we no longer have a means of stimulating our jawbone while biting and chewing, and that leads to the loss of beneficial nutrients. Fortunately, implant-held dentures can both remain stable and provide stimulation so that your body once again sends nutrients to your jaw!
Why Do My Dentures Feel Less Comfortable Now?
Dentures that feel secure at first may become less comfortable in time. This is an unfortunate consequence that can occur because your jawbone loses mass after tooth loss. When you have your complete smile, you stimulate the bone surrounding the roots of your teeth when you bite and chew. That stimulation is a signal for your body to move nutrients to the roots and support them and the jawbone itself. When you stop creating that stimulation, the nutrient flow is disrupted.
Making The Switch To Implant-Held Dentures
Dental implants help people with different degrees of tooth loss enjoy more confidence in their bite function and appearance. Just as a single implant can hold a single dental crown, or a set number of implants can hold a larger dental bridge, we can trust implants to hold a full denture in place. In addition to giving you permanent support for your restoration, implants provide the stimulation that teeth roots used to provide, so you can protect your jawbone from deterioration.
Putting Off Implant Placement Can Lead To Difficulties
If you put off treatment for tooth loss, or if you delay the switch from removable to fixed, implant-held dentures, you can run into an issue with your implant placement. During a preliminary review, your dentist will check on the condition of your jaw to see if the bone is ready to support implants. If too much deterioration has occurred, it can mean you need to undergo a grafting procedure before you can receive your permanently held denture.
Talk To Your Londonderry, NH Dentist About Implant-Held Dentures
At My Dentist in Londonderry, NH, patients who have experienced significant tooth loss can find that implant-held dentures provide an impressive degree of support throughout the day, and enjoy more support when they bite and chew food. To find out more, or to discuss any other oral health issues you currently have, contact our Londonderry, NH dental office at 603-965-3407.